ANTELOPE VALLEY CAR DEALER LOU GONZALES DISCUSSES THE SWITCH FROM THE SATURN BRAND TO CHEVROLET, WHAT BUYERS ARE LOOKING FOR THESE DAYS AND THE FUTURE OF THE LANCASTER AUTO MALL.
Valley Driven
Monday, March 14, 2011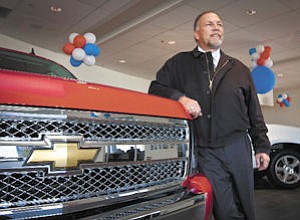 What Lou Gonzales has been through the past 18 months he would not wish on anyone.
His Saturn dealership in Palmdale was closed when General Motors discontinued the popular brand...

Are you a current Member? Sign In