DRAWING: FORD DEALERSHIP GETS CAR AT A DISCOUNT.
Car Legend, Galpin Put Pedal Down for CHP Charity
Monday, March 14, 2011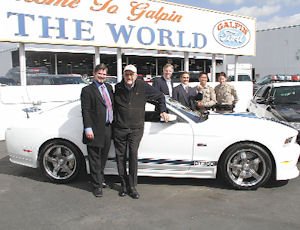 This is a regular feature on philanthropic activities by Valley-area businesspeople and companies.
Galpin Motors's Beau Boeckmann and racing legend Carroll Shelby worked with non-profit group CHP 11-99 to make a 2011 GT Shelby GT350 Mustang available as a fundraiser prize...
Are you a current Member? Sign In