EXECUTIVE SUMMARY / THE PACESETTER
THE LIST: LARGEST VALLEY HOSPITALS
Monday, December 5, 2011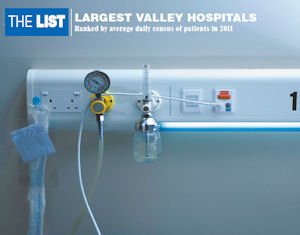 EXECUTIVE SUMMARY
The List of the greater Valley's largest hospitals collects and ranks each facility by its average daily census in 2011. This is calculated by dividing the total inpatient days by 365. This number is then divided against the number of beds to determine each hospital's percent occupancy rate. Changes to this year's List included Glendale Adventist Medical Center's move from second to first place, replacing Antelope Valley Hospital. Northridge Hospital Medical Center moved from fourth place to third, overtaking Providence Saint Joseph Medical Center. Providence Holy Cross Medical Center, which added a new hospital wing this year, moved from eighth place to fifth. Olive View-UCLA Medical Center, which was not on the List last year, ranked seventh this year.
-- By Research Department
---
THE PACESETTER
Glendale Adventist Medical Center is the hospital with the largest average daily census in 2011. The hospital had an average of 303 occupied staffed beds per day this year, raising it to first place from its second-place ranking last year when it had an average daily census of 293. The medical center, which was founded in 1905, has about 2,000 full-time employees and offers services in orthopedics, surgery, emergency care, neo-natal care, behavioral medicine and various other areas. The hospital also has a heart and vascular institute, a neuroscience institute, a spine institute and an ambulatory surgery center. This year, Glendale Adventist Medical Center has undergone part of a major expansion project. Kevin Roberts is the hospital's CEO and president.
-- By Research Department
---