JOBS: DECLINING REIMBURSEMENTS TO BLAME, EXPERTS SAY.
Area Hospitals Cut Workers
Monday, December 5, 2011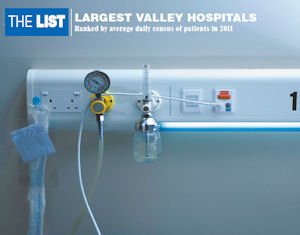 For those who think health care is the saving grace of the economy — creating innumerable jobs while others are slashing — think again.
Overall, health care jobs are only growing at a modest clip, and here in the San Fernando Valley region, hospitals have been eliminating jobs.
While not every area hospital provided comparable, year-over-year employment figures, the San Fernando Valley Business Journal's List of Largest Hospitals shows that among those who did, employment fell by a net total of 2,561 positions in 2011.
Of 16 hospitals who reported their employment data in both 2010 and 2011, 12 reported a total combined loss of 3,323 hospital jobs while four hospitals added a total of 762 hospital positions. All numbers were provided to the Business Journal by the hospitals.
While hospitals have been adding jobs in recent years, "the trend is going the other way now," said James Lott, executive director of the Hospital Association of Southern California. "Most hospitals are implementing lean management processes and they are preparing for cuts we all expect next year due to health care reform."
The two hospitals that cut the most were Providence St. Joseph Medical Center in Burbank, which according to our List, eliminated 591 hospital positions, and Northridge Hospital Medical Center in Northridge, which cut 575 hospital jobs.
Kaiser-Permanente—Panorama City Medical Center added the most jobs, 400 jobs in Panorama City and a total of 1,000 jobs overall when its Antelope Valley facility is included, according to the numbers provided by the organization. The second largest hospital in the region, Antelope Valley Hospital in Lancaster, added 300 jobs for a total of 2,800.
Economic impact
The job loss is important, as employment by hospitals drives 12 percent of the Los Angeles area economy, Lott said. Every hospital job supports eight non-health care jobs, he added.
Some say the main culprit is declining reimbursements.
In October, the federal Centers for Medicare and Medicaid Services approved California's plan to reduce Medi-Cal payments by 10 percent. Officials project that the cuts will save the state budget $623 million. Among those affected are outpatient clinics operated by hospitals.
At the same time, the health care reform legislation is expected to cost California hospitals $17 billion in Medicare reimbursements over 10 years, Lott said. With the two federal programs accounting for 20 to 40 percent of revenues at most hospitals, the cuts will have major ramifications, he said, noting, "These are two big programs and when you cut them, you are forcing hospitals to cut expenses."
That's exactly what area hospitals have been doing. Just about every major institution reduced hiring in 2011.
The cuts were mostly in total employment, but hospitals also appeared to cut back on registered nurses, which are typically protected from layoffs due to regulations that require hospitals to maintain a certain ratio of RNs to licensed beds. Only by eliminating an entire service unit can a hospital lay off RNs.
Still, our List shows an overall decline of 882 RNs in the surrounding area, with nine area hospitals eliminating a total of 1,072 nursing positions and four institutions adding 303 positions.
Though hospitals did not disclose what type of jobs they cut, non-union service jobs such as house-keeping or meal preparation are especially vulnerable to cutbacks, said Ron Shinkman, editor of the Sherman Oaks-based publication Payers and Providers, which tracks the health care industry in California.
A decline in elective procedures may also be to blame for the decline in hospital employment. "My belief is that those surgeries are down considerably," Shinkman said, noting that would affect surgical technicians, nurse anesthetists and the like.
Though HASC does not track the number of elective procedures performed in the Los Angeles region, Lott said hospitals are vulnerable to declines in this area because of the economy, rising deductibles for certain procedures and medical tourism. Plastic surgery costs significantly less in Thailand, India and Mexico. Lott believes the region has lost quite a bit of elective procedures to these countries.
The good news
Here's the bright side: hospital jobs are not the only health care jobs. As hospitals let people go, outpatient clinics, ambulatory surgical centers, skilled nursing facilities and physician's offices continue to create jobs and hire.
"Hospitals are just part of the story," said Nancy D. Sidhu, chief economist for the Kyser Center for Economic Research at the Los Angeles County Economic Development Corp. "A growing portion of health care takes place outside the hospital."
Health care employment in the region continues to grow, according to the California Employment Development Department. The EDD lumps health care and education jobs data together under the education and health services sector. In the fourth quarter of 2010, the latest data available, that sector employed 99,400 people in the San Fernando Valley, up 1.2 percent from the same period in 2009, Sidhu said.
"It's not enough to make up for loss of jobs in all other sectors, but it's an area that grows steadily," she said. "And it has continued to grow since the start of the recession. That is its virtue — it provides a solid base."
According to Lott, about 35 to 40 percent of health care jobs are in hospitals and a growing share is moving outside into physicians' offices, retail clinics, even into the home.
Hospitals themselves are adjusting to that change, creating outpatient clinics and ambulatory surgical centers rather than adding more licensed beds. Our List showed virtually no increase in the number of licensed or staffed beds.