Mary Catherine Holcomb
Staff Reporter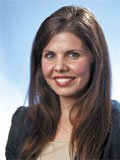 Mary Catherine Holcomb covers advertising, biotechnology, real estate, law and technology. She joined the company in April 2011.
Holcomb previously worked as a writer for the Los Angeles Clippers. Before that, she was a reporter for The Daily Review and a freelance television reporter for KWBJ News in Morgan City, La.
She has a bachelor's of arts degree in mass communications – broadcast journalism from Nicholls State University in Thibodaux, La.
Recent Stories