Mark Madler
Staff Reporter (Technology, Entertainment)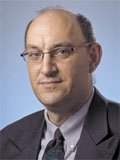 Mark R. Madler covers aviation & aerospace, manufacturing, technology, automotive & transportation, media & entertainment, banking & finance and the Antelope Valley. He joined the company in February 2006.
Madler previously worked as a reporter for the Burbank Leader. Before that, he was a reporter for the City News Bureau of Chicago and several daily newspapers in the suburban Chicago area.
He has a bachelor's of science degree in journalism from the University of Illinois, Urbana-Champaign.
He can be reached at (818) 316-3126, or by email: mmadler@sfvbj.com.

Recent Stories
BYD Motors Inc. announced Monday signing a community benefits agreement with Jobs to Move America to create job opportunities for underserved people at the company's Lancaster manufacturing plant.
Downtown Lancaster has been designated as a state cultural district by the California Arts Council.
A subsidiary of Teledyne Technologies Inc. has acquired a Pennsylvania manufacturer of precision components and subassemblies, it was announced Thursday.
Santa Clarita issued 545 on-location film permits in its recently completed 2016-17 fiscal year, the fourth year in a row the city has recorded more than 500 permits.
On-location film, television and commercial production fell by 4.7 percent in the second quarter compared to a year ago, according to figures released Wednesday by FilmL.A.
Penthouse Global Media has acquired Omni magazine and plans to publish a print issue of the groundbreaking science publication in October.
ENTERTAINMENT: Partners see demand for Crimson Studios.
Crimson Production Studios is taking advantage of the booming local entertainment industry with new soundstages.
Two Valley employees given awards because they help businesses.
Chamber of Commerce honors public servants who helped local businesses in the line of duty.
AEROSPACE: Company signs license deals with legacy motor manufacturers.
Ontic Engineering & Manufacturing Inc. has made a deal with Pratt & Whitney Canada for the manufacturing rights to components for a business jet engine.
Former ski bum turned public relations consultant John Lockhart loves to tell the stories of client companies and their products.
John Lockhart, president of People Media Worldwide Inc., on gathering audiences to hear his clients' stories.