Mark Madler
Staff Reporter (Technology, Entertainment)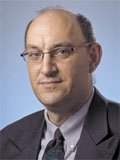 Mark R. Madler covers aviation & aerospace, manufacturing, technology, automotive & transportation, media & entertainment, banking & finance and the Antelope Valley. He joined the company in February 2006.
Madler previously worked as a reporter for the Burbank Leader. Before that, he was a reporter for the City News Bureau of Chicago and several daily newspapers in the suburban Chicago area.
He has a bachelor's of science degree in journalism from the University of Illinois, Urbana-Champaign.
He can be reached at (818) 316-3126, or by email: mmadler@sfvbj.com.

Recent Stories
Two Antelope Valley lawmakers have sponsored legislation to bring changes to how the California Public Utilities Commission sets rates for investor-owned water companies.
Combination of Dole Food and European investor will deliver 'synergies for both players.'
Dole Food Co. backs down from IPO, decides to sell stake in business to an Irish firm.
DEVELOPMENT: Apartment groundbreaking is first step in a neighborhood turnaround.
Gelt Inc. teams with Chinese investor to build mixed-use project to help revitalize Reseda.
ENERGY: Power plant deal provides oil producer with $750 million in cash.
California Resources Corp. forms joint venture on natural gas power plant.
State Sen. Bob Hertzberg wants to bring banking services to cannabis businesses.
EQUIPMENT: Feedback from cinematographers shaped product development.
Panavision Inc. introduced a new camera early this month at a trade expo in London.
Teledyne Brown Engineering Inc. has received a $45.7 million contract from the U.S. Army Space and Missile Defense Command to provide missile defense modeling and simulation software.
The president of the California Public Utilities Commission has withdrawn from consideration a temporary moratorium on new natural gas hookups in Los Angeles County, according to media reports.
BlackLine Inc. beat Wall Street estimates on adjusted earnings and revenue in the fourth quarter.
The owner of Harbor Freight Tools has donated $50 million to Cedars-Sinai to create an institute for research and innovative practices in cardiology and cardiovascular surgery.