Helen Floersh
Staff Reporter (Retail, Nonprofits)
Helen covers retail, hospitality and nonprofits in the greater Valley region.
Recent Stories
Fast-casual franchisor PizzaRev has been acquired by Cleveland Avenue, a venture capital firm founded by a former McDonald's Corp. executive.
Chuy's Mesquite Broiler in Camarillo apparently has shut down after 20 years in business, according to the Ventura County Star and business review site Yelp Inc.
Action sports apparel and accessory brand Neff Headwear Inc. has been acquired by Mad Engine, an apparel licensing firm. Neff will move from Camarillo to Mad Engine's Orange County headquarters as part of the deal, which also will see Neff co-founder and Chief Executive Shaun Neff join Mad Engine as chief creative officer.
The Boys & Girls Clubs of Greater Conejo Valley has named insurance industry veteran Joshua Adam Bulpitt to its board of directors, the nonprofit announced Monday.
Friends' feedback guides design of functional swimwear.
Teen fashion designer launches functional bikini line.
Lamps Plus understands how to sell on internet, but mobile is chain's next challenge.
How Lamps Plus keeps its lights on amid ecommerce competition.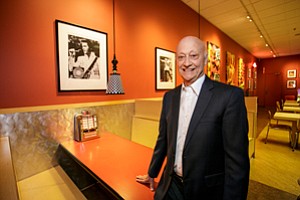 CHARITY: Restaurant chain's two-month campaign raises $10,000 for food service.
Sharky's Woodfired Mexican Grill has completed a two-month campaign to raise $10,000 for No Kid Hungry, a Washington, D.C. nonprofit that connects low-income children with programs that provide meals and nutrition resources.
Cheesecake Factory Inc. Executive Vice President and Chief Financial Officer W. Douglas Benn will retire from his post on July 7, the company announced Friday. He will be succeeded by Matthew Clark, who has served as senior vice president of finance and strategy at the Calabasas restaurant group for more than 11 years.
Brick-and-mortar retailer Lamps Plus learned to work with the internet instead of against it.
Cherokee Global Brands on Thursday released fourth-quarter and full-year results for fiscal 2017 that beat Wall Street expectations for both earnings and revenue.