Charles Crumpley
Publisher & Editor
Charles weighs in each week with his opinion - his "Comment" - about local business. While he pats the heads of those who make prescient or brave decisions, he's not afraid to kick the shins of businesses that make dunderheaded moves or governments that interfere with free markets. It can be newsy, it can be opinionated, or it can be funny, but the Comment column is always about business in Los Angeles County.
Charles Crumpley has been a reporter, writer or editor for 30 years, mostly with daily newspapers. He was born and raised in Kansas City, MO, and worked for years for the Kansas City Star, mainly as a senior financial writer. He was the editor of the business news section for two daily newspapers, including the New Orleans Times-Picayune. He has won four national journalism awards and studied Japanese banking and business practices in Tokyo as a senior Fulbright scholar. He has been editor of the Los Angeles Business Journal since January 2006.
He can be reached at (323) 549-5225, ext. 208, or by email: ccrumpley@labusinessjournal.com.
Recent Stories
The city of Burbank on Wednesday morning put a red tag of condemnation on the defiant Tinhorn Flats Saloon and Grill and padlocked its doors for a second time.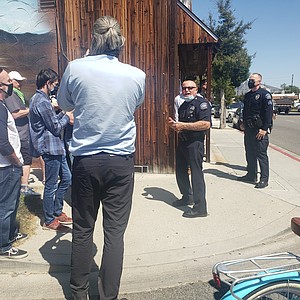 Is this the Wild West or the San Fernando Valley? One local business news story in the last few weeks may make you wonder.
Padlocks were removed from the Tinhorn Flats bar and grille on Wednesday evening after the city of Burbank determined that it was a safety hazard to have the front doors locked when patrons had streamed through a breached side door and were dining inside the defiant restaurant.
Randy Witt has resigned from the Fernando Award Foundation's board and as its chair and chief executive.
'Many (brokers) successfully employed creativity and persistence to complete deals in a difficult year.'
'The chance to be an entrepreneur is one of the greatest privileges this country has to offer.'
832 N. Maclay Ave., San Fernando Business: Residential real estate brokerage, asset management, legislative housing advocacy (818) 336-6777 • Email: melwilson2424@gmail.com Website: melwilsonrealtors.com
200 N. Westlake Blvd., Westlake Village Business: Personal financial planner (805) 495-2077 • Email: jgrace@whybepoor.com Website: Westlakefinancialadvisors.com
For many businesses, the last year with the government-imposed lockdowns has been the most challenging. But Richard Herron of Construction Concern Inc. in Newhall thinks of the Great Recession as his worst period.
The economic lockdowns during the coronavirus pandemic have devastated restaurants in California.