Charles Crumpley
Publisher & Editor
Charles weighs in each week with his opinion - his "Comment" - about local business. While he pats the heads of those who make prescient or brave decisions, he's not afraid to kick the shins of businesses that make dunderheaded moves or governments that interfere with free markets. It can be newsy, it can be opinionated, or it can be funny, but the Comment column is always about business in Los Angeles County.
Charles Crumpley has been a reporter, writer or editor for 30 years, mostly with daily newspapers. He was born and raised in Kansas City, MO, and worked for years for the Kansas City Star, mainly as a senior financial writer. He was the editor of the business news section for two daily newspapers, including the New Orleans Times-Picayune. He has won four national journalism awards and studied Japanese banking and business practices in Tokyo as a senior Fulbright scholar. He has been editor of the Los Angeles Business Journal since January 2006.
He can be reached at (323) 549-5225, ext. 208, or by email: ccrumpley@labusinessjournal.com.
Recent Stories
A group of business owners, saying they're fed up with a particular California law, on Thursday morning took a page from labor organizations' playbook and staged a public protest.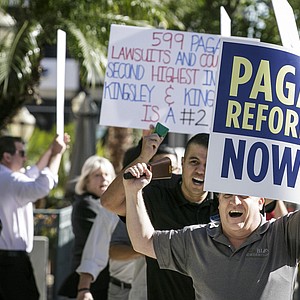 With a sigh, I vote for the state Supreme Court's decision in April that basically outlawed the gig economy in California.
Valley lost out with Amazon decision.
Last May I wrote that BlackLine issued a nice quarterly report – it beat expectations on both the top and bottom lines – yet it seemed a bit odd that the stock swooned 5 percent.
The Tutor Perini Corp. on Wednesday reported third quarter earnings and revenue that not only were lower than last year but fell significantly short of expectations.
I live in one of those very suburban neighborhoods that was built for kids.
Even though the U.S. economy keeps humming along and soon may record the longest expansion in modern history, "there are signs of a slowdown," an economist reported Friday morning at a business forecast conference in Universal City.
Nearly 400 business, political and non-profit chiefs attended the 19th annual Justice Armand Arabian Leaders in Public Service Awards luncheon on Thursday, although it was the first without the former California Supreme Court Justice after whom the awards are named.
California Lutheran University announced Wednesday that it has received $6 million – the largest single gift in its history.
More than 500 military veterans were expected to participate Thursday in the Valley Economic Alliance's annual Hero Hired Veteran Job and Resource Fair at Los Angeles Valley College in Valley Glen.