Carol Lawrence
Staff Reporter (Real Estate)
Carol Lawrence writes commercial real estate stories about development, land and building deals, relevant trends and compelling profiles relating to the San Fernando Valley and other nearby Valley areas.
A business writer for 10 out of her 13 years in journalism, Carol has covered SoCal topics including manufacturing, agriculture, the Los Angeles and Long Beach seaports, small businesses and transportation as it affects business. Carol has won several journalism awards for her coverage of business, environmental issues and agriculture.
She can be reached at (818) 316-3123, or by email: clawrence@sfvbj.com.
Recent Stories
The Moorpark manufacturing and warehousing complex formerly occupied by Kavlico, the specialty sensor manufacturer now in Thousand Oaks, has been sold, according to brokerage Newmark Knight Frank.
The California Association of Realtors has taken out full-page advertisements in major national news telling President Donald Trump and California's congressional delegation that Trump's proposed Tax Reform Plan would punish California residents should it become law.
Bristol Farms has opened its first San Fernando Valley store at the El Camino Shopping Center in Woodland Hills, according to CBRE Group Inc. in Los Angeles.
Cusumano Real Estate Group has sold a two-building apartment complex in Burbank for $59 million, according LA Commercial Agency/KW Commercial in Encino, which handled the deal.
Star Performer: At Account Control, Bills Make Good Business
SPECIAL AWARD – Star Performer winner
'Frictionless' Transactions Translate to Growth
Largest Company and Star Performer winners.
REAL ESTATE: Collectors love extra space, fancy ambiance.
Developers find the formula for car collectors needing space for their possessions.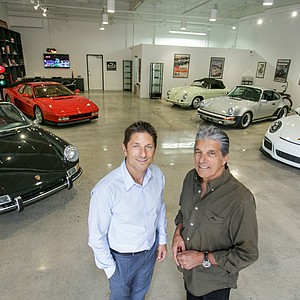 REPORT: High visibility prompts health providers to pay extra for space.
The general office market in the Valley areas has seen better days, but the medical office market is healthy and improving.
Newhall Land and Farming Co., developers of the proposed Newhall Ranch project in the Santa Clarita Valley, has agreed to preserve an additional 1,500 acres for a flower that grows there and only one other place.
Limoneira Co., an independent lemon grower in Santa Paula, began construction Wednesday on a master planned community some 10 years in the making.