Andrew Foerch
Staff Reporter (Retail, Nonprofits)
Recent Stories
Panorama City Mall was scheduled to reopen for in-store shoppers on Monday but was forced to postpone due to protests taking place near the property.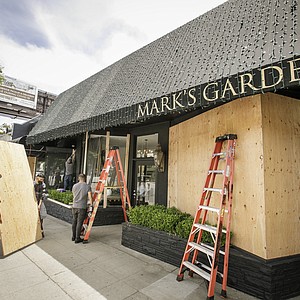 Dine Brands Global Inc. announced Thursday it has started a search for its next chief executive.
For the sixth consecutive year, Woodbury University in Burbank has been recognized as a "College of Distinction."
INDUSTRIAL: Business model works in current economy.
Amid the economic wreckage brought on by COVID-19, one industry stands out for its resilience to the virus: self-storage.
Training facility separates from Bryant family.
Mamba Sports Academy has dropped the "Mamba" from its name and rebranded as Sports Academy four months after celebrity partner Kobe Bryant died in a helicopter crash in the hills of Calabasas.
Waiting rooms use walls to divide and conquer viral infection.
Are medical waiting rooms due for a redesign? Valley businessman Doron Polus thinks so.
Neiman Marcus' Chapter 11 and Souplantation closure.
Oil company seeks loan to survive a Chapter 11 filing
Shares of California Resources Corp. plunged earlier this month after the Wall Street Journal reported the Santa Clarita oil and gas company was asking lenders for a loan of $500 million to $600 million to carry it through a possible Chapter 11 filing.
Prior to founding Manchester Financial in 1990, Robert Katch was associate treasurer at Pepperdine University in Malibu. He was responsible for the university's corporate finance function including cash and debt management, as well as the institution's $250 million investment portfolio. From 1991 through 2003, Katch also served as an adjunct professor at Pepperdine, where he taught investment, accounting and finance courses. He currently serves on the board for Pepperdine's Seaver College and chairs the investment committee for the Ventura County Community Foundation's endowment portfolio.
Louie Valdez, managing director of investments at Valdez & Polanski Wealth Management Group of Wells Fargo Advisor, has worked in finance for 28 years. His team specializes in providing comprehensive wealth management to affluent families in the Conejo Valley. Valdez, himself a Conejo Valley native, graduated from California State University – Northridge in finance and economics. He later bolstered his credentials by becoming a Certified Financial Planner and earning a master's degree in personal financial planning. He is currently co-chair of the California State University – Channel Islands Planned Giving Council and the nonprofit Senior Concerns of Thousand Oaks. He also served as chairman of the Moorpark Foundation for the Arts. In 2016, Valdez was a recipient of the San Fernando Valley Business Journal's Trusted Advisor Award. Valdez has been married to his wife, Tina, for over 25 years and has two children, Anthony and Alexis.