Henry Mayo Newhall Hospital opened its six-story, 163,000-square-foot tower to patients last weekend and on the same day welcomed the first baby boy and girl to the Center for Women and Newborns.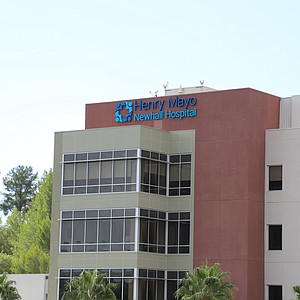 Amgen Inc. announced third quarter results that beat Wall Street expectations.
Mental health workers at Kaiser Permanente Behavioral Health in Simi Valley are participating in a strike Monday and Tuesday, ahead of a planned five-day statewide strike scheduled to begin Nov. 11.
Atara Biotherapeutics Inc. late Friday announced the departures of Dr. Christopher Haqq, chief scientific officer, and Mina Kim, general counsel and head of corporate strategy.
Tobinworld, an educational nonprofit for autistic and emotionally challenged children, plans to lay off more than 100 employees in December with the closing of several schools in Glendale.
Amgen Inc. will distribute its cholesterol drug Repatha at a 60 percent lower list price as of Dec. 31.
City of Hope Mission Hills staff were among 170 City of Hope workers to join SEIU-United Healthcare Workers West, according to a statement from the union on Monday.
Arcutis Biotherapeutics, a private immuno-dermatology drug development company in Westlake Village, has completed a $94.5 million Series C financing round.
Westlake Village BioPartners is one of seven investors to back ArsenalBio, a San Francisco-based immune cell therapy startup.
SEIU-United Healthcare Workers West on Wednesday ratified a four-year agreement with Kaiser Permanente, according to a statement from the union.
Cerner Corp., a Kansas City, Mo.-based IT company for health care organizations, plans to terminate 217 employees at sites in Simi Valley and Glendale as a result of ending its business relationship with Adventist Health in November.
n the midst of the Saddleridge and Wendy fires, hospitals in the Santa Clarita, San Fernando and Antelope valleys remain open and look to make sure departments are adequately staffed, despite closures of major freeways.
Westminster Free Clinic, a heart health clinic in Thousand Oaks, was one of 11 clinics in the U.S. to receive a grant from AstraZeneca HealthCare Foundation's Connections to Cardiovascular Health program.
Sienna Biopharmaceuticals has filed a notification with the U.S. Food and Drug Administration seeking permission to sell its drug SNA-001, a topical pre-treatment for laser removal of light hair, according to a statement from the company on Monday.
Second Sight Medical Products Inc. on Tuesday announced it received a $2.4 million, four-year grant from the National Institutes of Health to further development of the Orion Visual Cortical Prosthesis System.