SFV HEALTHCARE
Recent and archived news stories on: Biotechnology, Doctors, Drugs, Health Insurance, HMO's/PPO's, Hospitals, Medical Devices, Nursing...
A new treatment center for teenage girls with eating disorders has opened in Agoura Hills.
Amgen Inc. in Thousand Oaks has agreed to provide operational and financial support to Belgium-based Biocartis Group in its pursuit of Food and Drug Administration approval for a test that compliments Amgen's metastatic colon cancer drug Vectibix, or panitumumab.
The Food and Drug Administration has approved Amgen Inc.'s drug Repatha as a prevention for heart attacks in patients with cardiovascular disease, potentially enlarging the customer base for the drug.
The Antelope Valley Hospital has partnered with a local nonprofit to provide support to newly paralyzed patients.
Amgen Ventures, the investment arm of Thousand Oaks biopharmaceutical firm Amgen Inc., has invested an undisclosed sum in Syapse Inc., a San Francisco software company that has developed an integrative platform designed to streamline the "precision medicine" approach to cancer treatment.
Epic Medical Group has opened a clinic at Sherman Oaks Hospital to help close the gap between hospital stay and home for patients recovering from complex and chronic conditions, the company announced Thursday.
Amgen Inc. will lay off up to 121 workers at its California sites beginning Dec. 31, according to a notice filed in early November with the California Employment Development Department.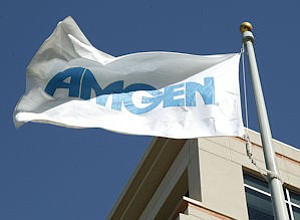 Kaiser Permanente Inc. physicians will continue treating patients at the Antelope Valley Hospital for at least another decade.
Amgen Inc. and Novartis International, a Swiss biopharmaceutical company, have launched a new clinical trial to assess the effectiveness of their co-developed drug for the prevention of Alzheimer's disease in high-risk patients.
Amgen Inc. in Thousand Oaks has entered an agreement to buy Kirin-Amgen, its joint venture with Japan-based Kirin Holdings Co., for $780 million, the company announced.
Regency Palms, an assisted living facility in Oxnard, has received a $12.5 million loan from iBorrow, a bridge loan provider in Los Angeles.
Amgen Inc. on Tuesday announced a cancer awareness campaign with Joan Lunden, a breast cancer survivor and award-winning journalist.
MannKind Corp. has announced that it has submitted paperwork in Brazil to seek approval of its sole product, Afrezza. The company also announced it will be restructuring its outstanding debt obligations.
Los Angeles County Olive View-UCLA Medical Center in Sylmar was locked down Thursday for about three hours amid reports that a gunman was on site, authorities said.
Exer More Than Urgent Care has opened a new location in Santa Clarita in partnership with Providence Health & Services.
Prev Next