Van Nuys Apartments Sell for $680,000 a Unit
Friday, July 10, 2020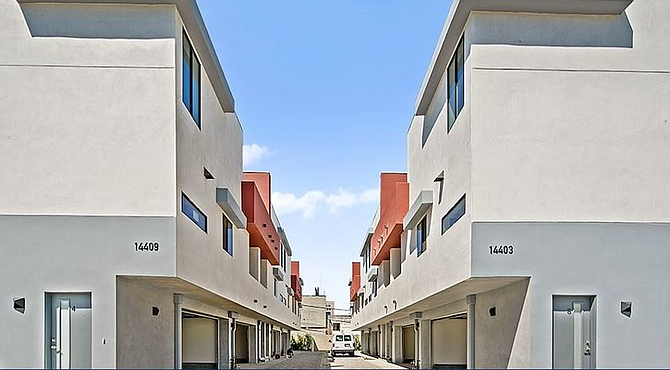 An eight-unit Van Nuys multifamily complex has sold for $5.6 million, or $681,250 per unit, according to brokerage Marcus & Millichap Inc.
The deal involves the complex located at 14403-14409 Tiara St., which covers 14,000 square feet on a lot under a half-acre near the border of Van Nuys and Sherman Oaks.
Brokers Glen Scher and Filip Niculete, who head Marcus & Millichap's LAAA service out of the firm's Encino office, together with Senior Associate Arash Memary, closed the deal on behalf of the seller.
According to CoStar, the previous all-time highest price per unit ever in Van Nuys was $562,500 with the $2.25 million of 14252 Erwin St., a four-unit building with 5,883 square feet which also sold this month.
"With our sale of $681,250 a unit, we smashed the all-time record by $118,750 — 21 percent higher than the previous record," Scher told the Business Journal.
However, the deal came with pandemic-created complications. Tasked with selling a fully vacant, brand new construction property before it had a certificate of occupancy, the brokers found that since there was no income, buyers were unable to get conventional financing, which in turn was hurt the offer prices. The agents were able to negotiate a contract with a local investor in which they opened escrow at full list price, with the units vacant, but they could not close escrow until all of the units were leased. A local leasing agent was able to reach rents of $3,850 for all eight of the three-bedroom units.
Then, during escrow, the seller was forced to file for bankruptcy.
"This roller-coaster of an escrow lasted a total of five months, when it was originally supposed to be only 60 days," Niculet told the Business Journal. "However, it was all worth it in the end."