Developer Plans Five-Story Multifamily Complex in Canoga Park
Thursday, December 3, 2020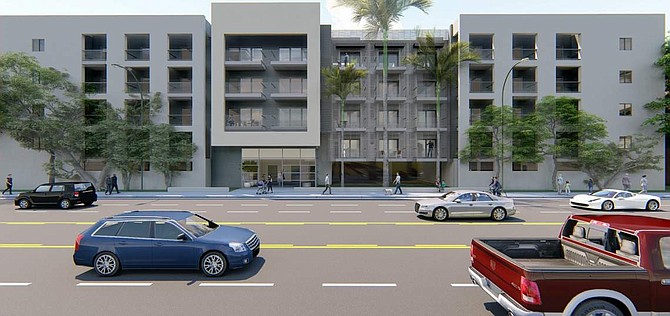 Developer Alliant Strategic has proposed a five-story multifamily complex to replace an existing office building in Canoga Park, according to a Los Angeles Planning Department application.

The structure at 7322 N. Topanga Canyon Blvd. would be comprised of 148 studio, one- and two-bedroom residential units above a 109-vehicle parking level.

The entire housing site will span 91,662 square feet.

As part of the zoning deal, Warner Center-based applicant Alliant Strategic will create 12 low-income units for the apartment building to qualify for Transit Oriented Communities Zone incentives. The developer, which has design firm Hochhauser Blatter visualizing the project, has requested such entitlements in conjunction with increased height and decreased side-yard setbacks.

The complex, to be dubbed 7334 North Topanga Residences, has a contemporary flair with stucco and aluminum paneling. Hochhauser Blatter has incorporated such building amenities as a rooftop terrace, recreation room and central courtyard into the design.

Alliant Strategic, which bought the site in April for roughly $8 million, has other apartment buildings currently in development in the San Fernando Valley, including a 330-unit affordable housing project in Van Nuys which the developer had announced plans for in November.