Edison Tower Investigated as Cause of Saddleridge Fire
Wednesday, October 16, 2019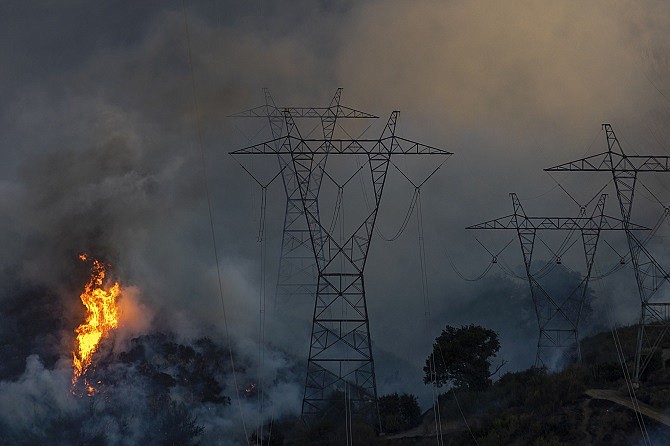 A Southern California Edison transmission tower in Sylmar located near the Oct. 10 ignition point for the 8,300-acre-plus Saddleridge Fire is under investigation as a cause for the blaze that destroyed or damaged more than 90 structures and was tied to two deaths, SCE officials confirmed Tuesday.
"Out of an abundance of caution, we notified the California Public Utilities Commission on Friday, Oct. 11, that our system was impacted near the reported time of the fire," SCE spokeswoman Mary Ann Milborn said in a statement.
Southern California Edison is the utility subsidiary of Rosemead-based Edison International. It provides electricity to 15 million people in 180 cities in all or part of 15 counties throughout Southern and Central California through a grid that contains more than 12,000 miles of high-voltage transmission lines and 91,000 miles of distribution lines.
If investigations into the Saddleridge Fire determine Edison equipment triggered the blaze, this would likely be the utility's first dip into a statewide wildfire fund signed into law this summer that would limit the company's liability.
Under that compromise, SCE ratepayers are contributing $3 billion toward the fund and the company is contributing another $3 billion. SCE must also spend nearly $2 billion to make its transmission grid more resistant to fires.
SCE's statement cited multiple reports that the Saddleridge Fire started at about 9 p.m. on Oct. 10 near the intersection of Yarnell Street and Saddle Ridge Road in Sylmar and quickly spread along the northwestern rim of the San Fernando Valley.
Although the statement itself did not reference the type of SCE equipment near this start point, several news outlets have reported that an SCE high-voltage transmission tower was within a couple hundred yards of this point, at the intersection of Yarnell Street and the 210 freeway.
The blaze burned unchecked for nearly 24 hours, driven by Santa Ana winds gusting up to 50 miles per hour. After the winds died down, firefighters were able to make progress and by midday Tuesday had established containment lines around 45% of the fire.
According to the Los Angeles Fire Department, as of Monday, the fire had destroyed 17 structures and damaged another 77 and was tied to two deaths by heart attack. Nearly 100,000 people were forced to evacuate during the height of the fire.