Burbank Holds First Economic Summit
Thursday, May 30, 2019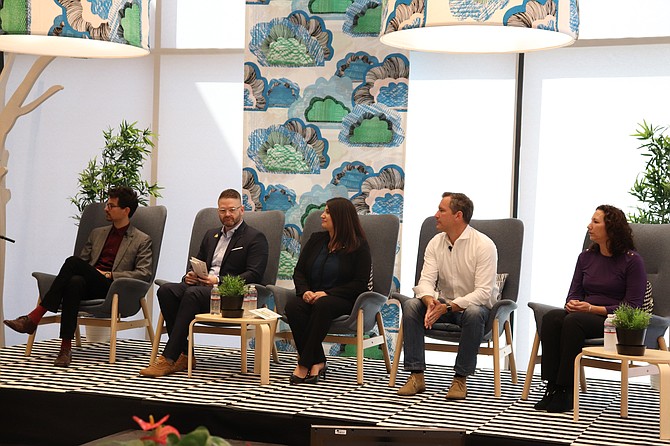 Burbank Chamber of Commerce and Better Burbank Corp., an economic development affiliate of the chamber, held its first annual Economic Summit at the Ikea in Burbank on Thursday.
Presented by Bank of America Merrill Lynch, the summit included a 2019 Economic Forecast delivered by Bank of America Senior Vice President Ray Vasquez, a talk by Alliance for SoCal Innovation Director Eric Eide and Executive Director Andy Wilson, and a panel discussion from representatives of some of the event's sponsors. They included Walt Disney Co., Providence St. Joseph Medical Center, Comcast NBCUniversal, Warner Bros.' parent company AT&T Inc., real estate firm Worthe, Woodbury University and Hollywood Burbank Airport.
Before an audience of 200, Burbank Mayor Emily Gabel-Luddy spoke of how her 105,000-resident city has cultivated a workforce of 154,000, and how Burbank has achieved a business friendly environment by waiving city income tax and gross receipts tax.
"We have great assets, great companies but we need more investment," said Alliance for SoCal Innovation's Eide.
Titled "The Technology Future is NOW in Burbank" and moderated by Burbank Chamber Board Member David Knight, a lively panel discussion of representatives from Burbank companies ensued, featuring Apartment D Partner Max Lopez, Petrol Advertising Senior Producer of Visual Identity Evan Rogers, Providence Saint Joseph Medical Center Director of Business Development Christine Rodriguez, Walt Disney Co. Director of Innovative Partnerships Matthew Deuel and Warner Bros. Executive Director of Digital Partnerships Pam Allison.
Allison said meeting consumer demand is always the number one driver of companies.
"There's so much content out there today," Allison said. "They expect content whenever they want, wherever they want."
Ultimately, as Knight put it, the goal is to retain business in Burbank and not have a situation such as when Lockheed moved its corporate headquarters out of the area to Georgia 30 years ago. In what surely invited the most candid responses, Knight asked the participants to describe the pros and cons of operating in the city of Burbank.
Most people on the panel agreed that Burbank's strongest strength was the pool of entertainment and tech creatives of all types and stripes located at Burbank Media Center.
"The atmosphere of Burbank is a great creative community," Lopez said.
However, Lopez noted Burbank's lack of legitimizing businesses coming out of garages, which has a lengthy history, from Disney founder Walt Disney to Apple's Steve Jobs and Steve Wozniak.
"I personally know content creators who avoid Burbank and move to (nearby) North Hollywood because of that," Lopez said.
For Rodriguez, from a hospital world perspective, Burbank's strength is its supportive community, which helped fundraise for the hospital's new emergency corridor, while one of its problems is a societal one.
"We have the homeless population come into our emergency room all of the time," she said.