City Attorney Seeks to Shut Down Valley Massage Parlors
Tuesday, May 28, 2019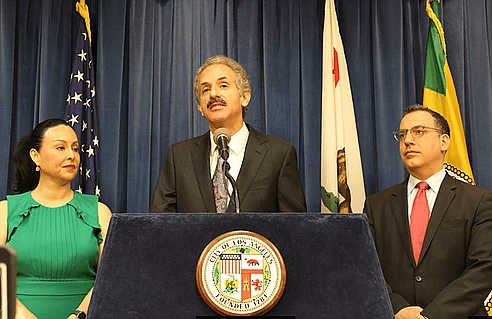 The Los Angeles City Attorney's Office held a press conference Tuesday to announce a crackdown against two massage parlors in the San Fernando Valley, accusing them of running fronts for prostitution and seeking injunctions to permanently shut them down.
The city has filed a lawsuit contending that Blue Moon Relax Spas, which has locations at strip malls in Tarzana and Van Nuys, have operated a sophisticated prostitution ring for years under the guise of a legal massage therapy business. The lawsuit names Xiaoxi Ding as chief executive and Hongshan Wang as manager of Kedi Enterprises, Inc., the corporation behind Blue Moon Relax Spa.
The lawsuit aims to evict the businesses, prevent similar ones from moving into the property, and ban the owners and operators from running service-related businesses within city limits. It also seeks civil penalties for each defendant.
"These co-called spas are instead notorious for prostitution," said City Atty. Mike Feuer in a statement. "They're close to schools or legitimate businesses, and we're seeking an injunction to shut them down. I'm also concerned that some workers possibly are victims of human trafficking, and we're working with our nonprofit partners to get them the help they may need."
The Van Nuys location at 6817 Balboa Blvd. opened in 2011 without a valid business permit. The Tarzana location at 18959 Ventura Blvd. opened in 2014 and was the subject of a recent complaint which said that two 16-year-olds were offered sexual services there.
Since 2012, the Los Angeles Police Department has conducted multiple vice investigations at both Blue Moon Relax Spa locations, resulting in a total of 14 prostitution-related arrests.
City Council members Bob Blumenfield and Nury Martinez, who represent the districts where Blue Moon Relax Spa operates, attended the press conference Tuesday.