Chamber Celebrates Conejo Retail, Restaurants at MIXPO
Friday, May 17, 2019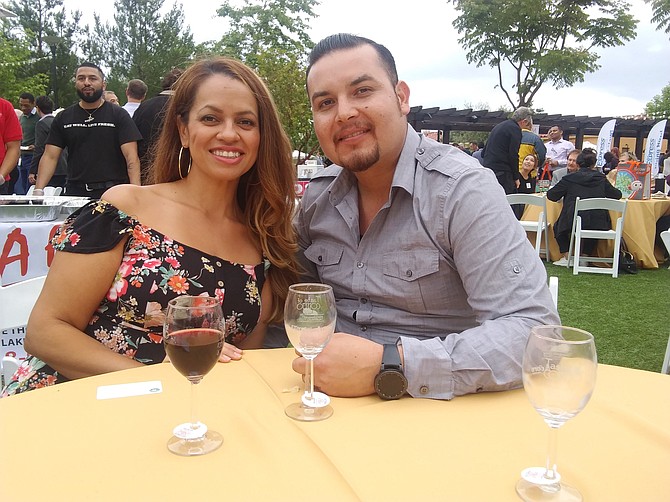 Despite the threat of inclement weather, Greater Conejo Chamber of Commerce smoothly hosted MIXPO, an outdoor business expo-plus event held at Los Robles Greens in Thousand Oaks Wednesday, improving on the previous year's Mega-Mix business expo in terms of scope and attendance.
"This year's MIXPO was the largest ever with vendor booths selling out several weeks before the event," Chamber President Jill Lederer told the Business Journal a day after the event. "MIXPO is the largest networking mixer of the year with mini Taste of Conejo and business expo elements blended in."
People receiving free massages by Westlake Commons-based Massage Heights. Churro bites doled out by Baja Fresh Westlake Village. Clouds of cold mist formulating at the table of Simi Valley dessert-maker Sub Zero Nitrogen Ice Cream, where salted caramel, cookies and cream and mint and chocolate flavors were frozen on the spot.
That was the scene midweek as several hundred people turned out to learn about Conejo Valley's business community while enjoying restaurant fare and wines from such local vintners as Sunland Vintage Winery in Thousand Oaks, which was repped at the event by Sales and Marketing Director Debby Giovinazzo.
Participants included such local businesses and branches as Cienfuegos Cuban Café, Express Employment Professionals, Salem Media Group, Wells Fargo, California State University - Channel Islands, Newberry Candy, Logix, Stonefire Grill, Sheraton Agoura Hills, Hyatt Regency Westlake, Crowne Plaza Hotels and Resorts, Palm Garden Hotel, TonwnePlace Suites by Marriott, Lindero Canyon Dentist, U.S. Bank, One West Bank, Twisted Oak Tavern, Lemonade, Thousand Oaks Plumbing, Popped Fresh and Jill's Cotton Candy.
All hands were on deck at 101 North Eatery & Bar, a Westlake Village restaurant which opened last May, as staffers served falafel bites, fresh and fruity Aperol libations and hazelnut trifle desserts.
101 North Marketing Manager Brittany Helfer told the Business Journal that she felt the event was important to the eatery's future.
"Being a part of events such as the MIXPO is simply what our brand is about; connecting with the community," Helfer said. "We try to take any and all opportunities we get to showcase our food and cocktails to people in the surrounding areas. We pride ourselves on being a community restaurant, which is why we enjoy participating in local community events."
With an original location in Sherman Oaks that's been around since the mid-1940s and another location in Westlake Village, Barone's Pizza appeared with samples of its product and several varieties of toppings. The Barone's team said that a third Barone's in the region is three weeks away from opening in Thousand Oaks nearby the Tilted Kilt Pub and Eatery on the 13000 block of Thousand Oaks Boulevard.
Prev Next