Encino's Scratch, Northridge's Boba Truck Partake in Month-Long Food Fest
Wednesday, May 15, 2019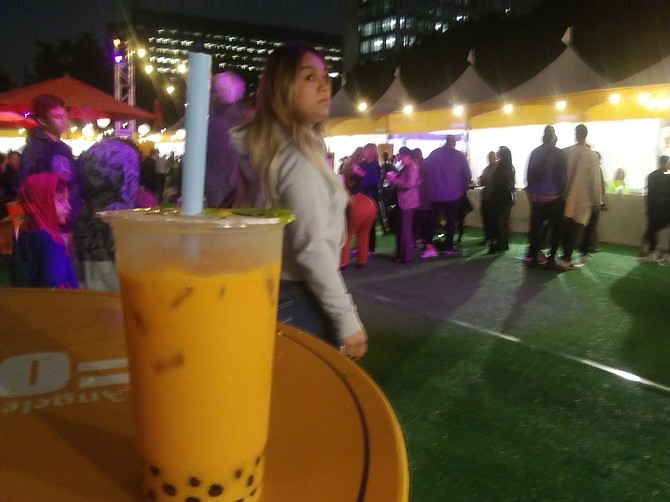 The Third Annual Los Angeles Times Food Bowl is currently underway throughout May, and as the food festival culls together a month's worth of upscale events featuring the best culinary experiences from all over Los Angeles and beyond, several San Fernando Valley eateries have also been brought into the fold to participate, including Chef/Owner Phillip Frankland Lee, who runs several establishments in Encino flagshipped by Scratch|Bar & Kitchen; and Tina Pham, owner of The Boba Truck Café.
The downtown Los Angeles-based food festival, which launched April 30 at Grand Central Market, has been going on all month, with a running Night Market at Grand Park and side events celebrating Los Angeles' myriad cultures through a variety of ethnic cuisine.
Pham, a partner in The Boba Truck Café, located at 8323 Reseda Blvd. in Northridge, worked late into the evening at Night Market, where she and her team doled out a steady flow of Thai iced tea, jasmine green milk tea, strawberry and other boba drink flavors.
"I really like what I'm seeing in the Valley," Los Angeles Times Deputy Food Editor Andrea Chang told the Business Journal, of North Los Angeles' emerging food scene, singling out the Sherman Oaks location of Ludo Lufebvre's Petit Trois on Ventura Boulevard, and longtime standbys such as Asanebo.
Lee, 31, has enjoyed a meteoric rise, having leap-frogged from Le Cordon Bleu-trained sous chef at 21, executive chef at 24 and chef and co-owner, with wife Margarita, who serves as their restaurants' pastry chef, by 25. In addition to Scratch|Bar & Kitchen at 16101 Ventura Boulevard, the chef helms five more restaurants
There's also Sushi|Bar, with locations in Encino and in Montecito; and The Monarch and Silver Bough, both in Montecito. A vegan spot, The Gadarene Swine in Studio City, closed two years ago.
Last week, Lee shuttered his Encino cocktail lounge Woodley Proper, which was located next door to Scratch|Bar & Kitchen. He will re-invent and re-open the space this fall.
"That'll come back as a traditional restaurant," said Lee, who is not sure what it will offer but the goal is to make it "more of a neighborhood restaurant, more approachable" and adding, "it's definitely going to be chef-driven."
He has appeared on such shows as "Last Chance Kitchen" and season 13 of "Top Chef" and appeared and won on "Chopped" "Guy's Grocery Games" and "Cutthroat Kitchen."
"I did well," Lee said. "I sort of sometime joke without 'Food Network,' these restaurants wouldn't exist," he explained, of how winning $10,000, $20,000 at a time helped subsidize his ventures.
"Phillip Frankland Lee has really carved out a niche for himself with over-the-top, luxurious tasting menus – I enjoyed both my meals at Scratch|Bar & Kitchen and at Sushi|Bar, as unconventional as it was," Chang said.
"It's cool to see him push the envelope by opening the Silver Bough in (Montecito)," Chang added, referring to Lee's $550-a-person buy-in concept near Santa Barbara.
Lee originally opened Scratch in Beverly Hills in May 2013, where it ran until July 2015, when Lee decided to re-establish the restaurant at its current address.
Part of the reason Lee brought Scratch to the San Fernando Valley was personal.
"I'm from the Valley," he said. "I grew up in Encino."
Lee also found the perfect venue for his concept in the Valley. The second-level space runs shallow and runs wide with a 35-foot-wide kitchen that runs 12-feet deep and the dining area runs another 12-feet deep.
"We didn't' have the budget to build a restaurant but (this space) had the bones of what we were looking for," Lee said.
Behind an unmarked, second-floor door on Ventura Boulevard, Lee runs Scratch as a 24-seat, 21-course establishment with a prefixed tasting menu in which six guests are seated every half hour. There is a bar, bartender and chef but no wait help.
"It's maître'd dining in the kitchens with the chefs, there are no servers in the restaurants," Lee said.
The curated dishes — with meals cooked on a fire, no gas — launch with micro-cocktails and develop from there.
At the Night Market, Scratch|Bar & Kitchen served wagyu rib-eye wrapped in sake-soaked nori, served with a broth of mushrooms and ox tails and pickled cherry blossom.
Lee took part with seven other top chefs in preparing two evenings of dinners.
"That was fantastic," Lee said. "We had two sold out nights where everyone got the most delicious rare beef in the entire world."
While Lee said his enterprises have calmed down on participating in food festivals, returning to Food Bowl turned out to be one of the few exceptions.
"We used to do a lot more," Lee said, "(but) it's a huge honor to be asked from the Los Angeles Times. They bring chefs from all over the world. It's just fun to be in that conversation."