Calabasas 'Trophy' Office Building on 17 Acres Sells for $24 Million
Friday, August 30, 2019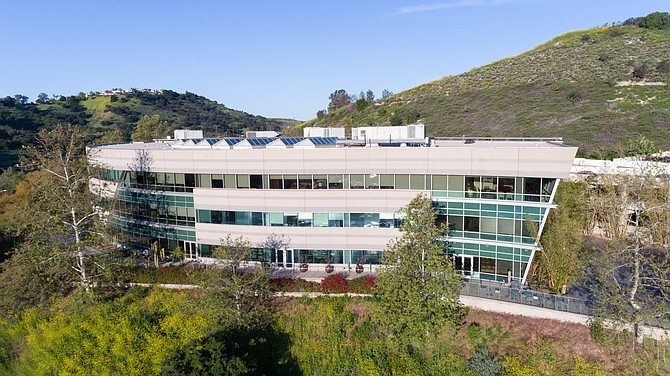 A 76,496-square-foot Calabasas building has sold for $24 million, or $314 a square foot.
The property, an architectural gem constructed as a build-to-suit headquarters for ValleyCrest Landscape Cos. in 2004, was designed by renowned Nadel Architects. The site at at 24151 Ventura Blvd. features views of the Santa Monica Mountains, a spectacular atrium and freeway visibility on a 17-acre campus with landscaped outdoor seating areas.
The Lee & Associates-LA North/Ventura team of Mike Tingus, Grant Fulkerson and Jonathan Bruce represented the seller, a ValleyCrest entity. The buyer is an entity of Los Angeles real estate investor Paul Minoo's 4M Investment Corp., which has a portfolio of commercial properties in L.A., Nevada, New York and Pennsylvania.
Minoo's company plans to convert the building into a multi-tenant office building.
"We feel privileged to represent the seller of this rare property," Tingus said in a statement. "The phenomenal growth and success of ValleyCrest was a tribute to entrepreneurship, and this corporate headquarters gem was a true embodiment of the company's pioneering spirit."
Founded by the late Burt Sperber in 1949 when he was 19 years old, ValleyCrest grew to 9,000 employees and more than 150 nationwide locations with a celebrated list of clients and projects that included Walt Disney Concert Hall and The Getty Center in Los Angeles; Atlantis Hotel, Bahamas; Dallas Cowboys Stadium in Arlington, Texas; and Hudson River Park in New York City.
ValleyCrest merged in 2014 to form BrightView Holdings, based in Blue Bell, Penn. The company went public last year.
"This is a true trophy property that attracted multiple offers within 30 days of listing," Fulkerson said in a statement. "With such a highly competitive process, the winning bidder offered a very short, 17-day due diligence period, and the transaction closed 23 days later."