Tariffs, Homeless Top Issues at VICA Congressional Luncheon
Friday, August 23, 2019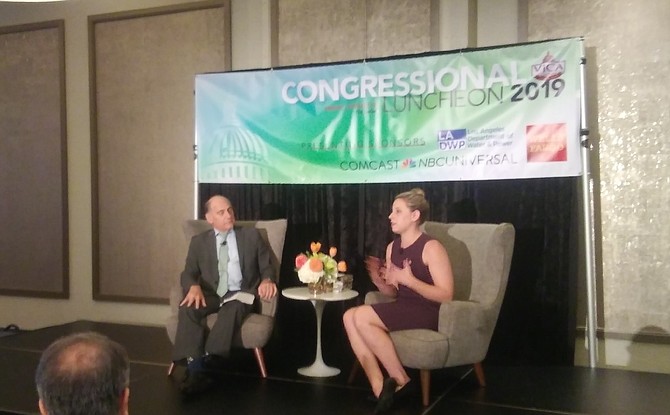 Four members of Congress spoke at the Valley Industry & Commerce Association's Congressional Luncheon on Friday.
Held at the Garland at 4222 Vineland Ave. in North Hollywood, the event brought together more than 200 business leaders to hear from Valley representatives in Washington.
Participants included Katie Hill, the new representative for Simi Valley, Santa Clarita and the Antelope Valley; Tony Cardenas, who represents the central section of the San Fernando Valley; Brad Sherman, whose district covers the southern and western portions of the Valley; and Jimmy Gomez, who represents parts of Glendale as well as downtown Los Angeles.
Cardenas was interviewed by Brad Rosenheim of land use consulting firm Rosenheim & Associates in Woodland Hills.
The main business issue for Cardenas now is the tariff issue with China, which he said is hurting Valley manufacturers.
While some people are being fooled by rhetoric that the tariffs hurt China more than U.S. companies, "manufacturers are getting squeezed," he said.
He spoke of one chief executive in Pacoima that had to pay $60,000 more during the last quarter in tariffs, money that could have gone to hire another person.
Sherman discussed the situation with North Korea and the administration's handling of the situation.
Steve Nissen, senior vice president at NBCUniversal in Universal City, interviewed Hill, who discussed immigration reform and homeless.
"When the economy is doing well, we actually see a rise in homelessness," Hill said. "There's little stock of low-income and affordable housing, so more and more people are getting pushed into the street."
She advocated tax vouchers and credits to keep people in permanent housing.
Major sponsors for the event included NBCUniveral, Los Angeles Department of Water & Power, Wells Fargo, Wonnacott Strategies, Pharmaceutical Research and Manufacturers of America, AT&T Inc., Kaiser Permanente and the San Fernando Valley Business Journal.