Garcetti Discusses Olympics, Valley's Middle-Class Future in Luncheon Speech
Friday, October 5, 2018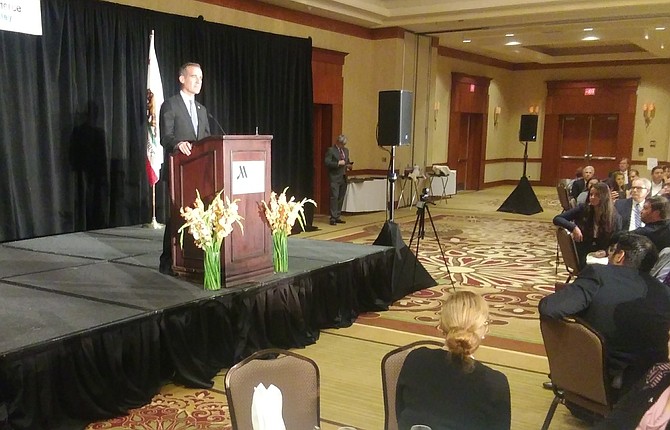 Los Angeles Mayor Eric Garcetti addressed the economics of the middle class and the 2028 Olympics in his keynote speech at the 14th Annual Richard Leyner Mayor's Luncheon on Friday in Woodland Hills.
"I'm just a boy from Encino," said Garcetti, born and raised in San Fernando Valley.
He called the San Fernando Valley "the middle of the world, the center of the universe, and it's a great anonymous place."
He employed the recent sale of the "Brady Bunch" residence in North Hollywood to cable network HGTV as an example of the "quintessential family home" and a metaphor of the middle-class California dream.
"The future was full of possibility (on the show)," he said. "Not all that much has changed."
He cited the Valley as "not too affluent or too blue collar" and the home of rocket engine manufacturer Aerojet Rocketdyne that may send humans to Mars.
"This is a place where anything's possible," he said.
Garcetti pinned his hopes on $1.1 billion in economic stimulus that L.A. stands to gain from the 2028 Olympics and added that Los Angeles has already been given $164 million toward that end by the Olympic Commission – a first, he said.
"While the torch came through (the Valley in 1984), no events were held here," he said, promising that not only will a cluster of games be held north of the 101 freeway but he shared loose plans to "leave behind the best sports park as a legacy" in the San Fernando Valley.
The lunch at the Warner Center Marriott in Woodland Hills was organized by the United Chambers of Commerce of the San Fernando Valley.