Caruso Celebrates 20th Anniversary of Commons at Calabasas
Thursday, November 29, 2018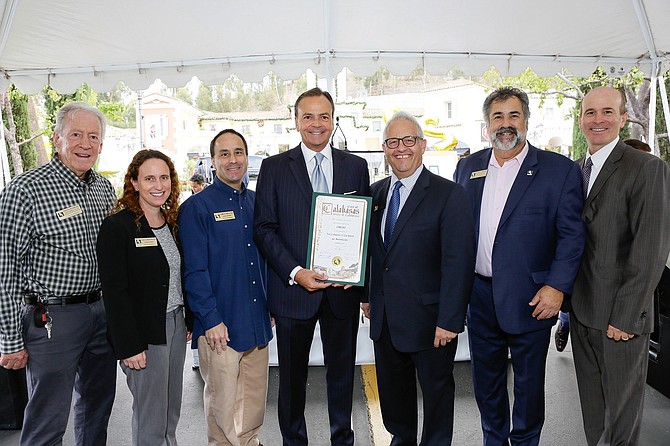 Civic and business leaders of Calabasas turned out Wednesday to celebrate the Commons at Calabasas' 20th anniversary with developer Rick Caruso and his Caruso firm employees, who created the retail center in 1998, a mere seven years after Calabasas became a city.
About 150 guests came to the luncheon near Polacheck Jewelers at the Calabasas mall. Among those in attendance were Calabasas' first mayor Dennis Washburn and Calabasas City Councilmember James Bozajian, as well as Caruso General Manager of the West Valley Properties Rachel Podor.
After personally greeting guests and employees at each table — and introductions by Caruso Senior Vice President of Corporate Relations Rick Lemmo, Bozajian and Mayor Fred Gaines — Caruso took to the podium to share anecdotes about the origin of the mall, which became the prototype for other Caruso properties such as the Grove in Los Angeles (2002), the Americana at Brand in Glendale (2008), and the just-opened Palisades Village in Pacific Palisades.
"It holds some of the dearest memories I've had in my career," said Caruso. "There was so much concern (over the Commons) that the community became a city."
He recounted how locals disputed the direction of the project, which ultimately included the concurrent creation of Calabasas' city hall and library.
The developer recalled how the city-driven project had gone from Ahmanson Group to Washington Mutual to Kilroy before Caruso's team — then-named Caruso Affiliated — was approached to figure out the retail component.

"We looked at (Kilroy's plan) and said we need to redesign the entire retail," said Caruso.
His company built the project in 24 weeks from grading to completion in spite of inclement weather, with construction crews working round-the-clock.