Norms to Open Second Valley Location in 2019
Tuesday, November 20, 2018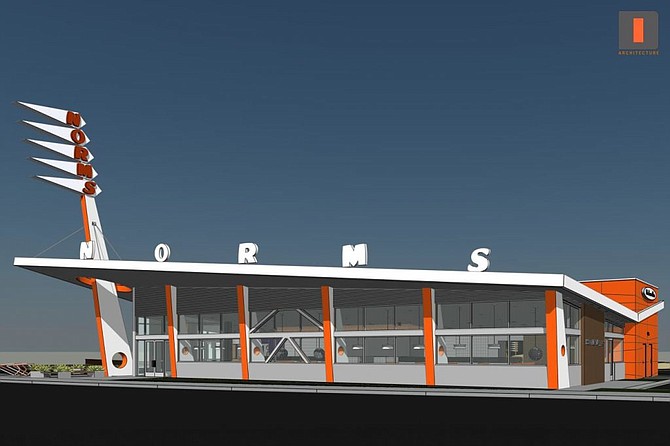 Norms Restaurants, the regional chain of Southern California diners that never, is expanding under its latest ownership, with a new location due in Encino in 2019.
The latest Norms will open at 16575 Ventura Blvd., where a Tony Roma's occupied the storefront until late last year.
The Encino restaurant will signify only the second Norms in operation in the San Fernando Valley — joining the long-running Van Nuys location at Sherman Way and Woodman Avenue.
Founded in 1949 by Norm Roybark, the chain today has less than 20 locations throughout Southern California. The original locations, mostly built in the 1950s, boasted design work by famed Los Angeles architecture firm Armet & Davis, authors of the playful, mid-century Googie style.
As documented by various reports, Norms has gone through some turbulence in recent years after the restaurant's heirs began unloading the family business. The Norms chain lost two locations in Santa Monica and West Los Angeles. The Norms on Colorado and Lincoln boulevards in downtown Santa Monica shuttered in 2013. On Christmas eve in 2016, the Norms which stood near the intersection of Pico and Sepulveda boulevards closed after 47 years of operation. The 19,000-square-foot parcel beneath the Sepulveda and Pico location was purchased by a developer for $8.25 million.

Roybark's heirs, after more than six decades of family ownership, sold Norms in 2015 and simultaneously also sold the real estate, which created headaches between the new Norms owners and the new property owners. That year, after the recent property owner of the West Hollywood Norms, located on La Cienega Boulevard near Melrose Avenue, moved to obtain a demolition permit, L.A.'s Cultural Heritage Commission voted unanimously in a 5-0 vote to protect the structure by granting it Historic-Cultural Monument status based on its Googie architecture.
Norms is currently run by CapitalSpring, a firm which manages assets of approximately $1.3 billion and has completed investments in more than 50 different restaurant brands and more than 4,000 restaurant locations nationwide.
This past July, CapitalSpring opened a new Norms restaurant in El Monte.