CSUN Parts Ways With Athletics Director, Basketball Coach
Wednesday, March 7, 2018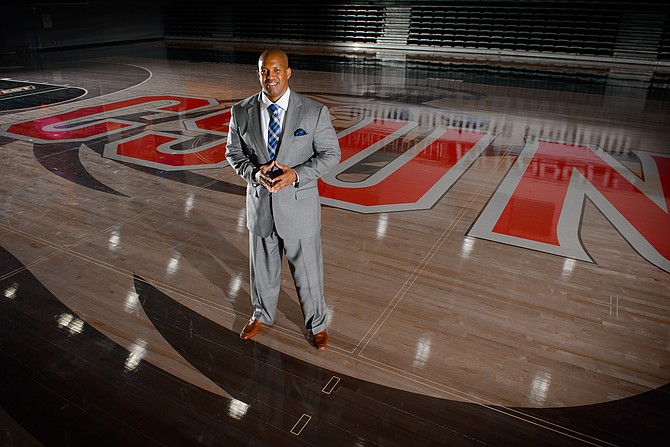 California State University – Northridge Athletics Director Brandon Martin was let go from his position on Wednesday, according to the school.
The San Fernando Valley university also parted ways with Reggie Theus, the men's basketball coach.
University President Dianne Harrison thanked both Martin and Theus for their dedication to Matador athletics.
"We wish them the best moving forward," Harrison said in a statement. "CSUN is absolutely committed to the success of Matador athletics and to supporting our student-athletes."
Martin was hired at CSUN in 2013. Previously he served as senior associate director of athletics at USC, where he had played basketball for four years, and then in a similar position at the University of Oklahoma.
While at the university Martin pursued marketing sponsorships and other deals with local businesses. He also set high goals for the athletic program, saying in a 2016 interview with the Business Journal that with "the right leadership and the right vision, it could be a top 100 program nationally."
"I felt that CSUN was a sleeping giant with a wealth of potential," Martin added in the interview about why he took the athletic director position.
He oversaw improvements to the school's athletic facilities, including adding seats and a floor at the Matadome, boosting attendance and significantly increasing the revenue brought in from partnerships with businesses. Fifteen new corporate partners were added during the 2014-15 school year.
But Martin's tenure also included implications of an academic fraud scandal in 2016 in which CSUN received three years of probation and a self-imposed postseason ban in 2015. The scandal involved cheating from former players and led to the firing of former Director of Basketball Operations Lior Schwartzberg.
Theus, a former NBA star who was among Martin's first hires, took the men's basketball team to the Big West tournament in his first season. After that, his teams struggled and were often mired in last place.
This season, the Matadors men's team finished last with a record of 6-24 and only three wins against other conference teams.
CSUN is undertaking a nationwide search for the next Matadors basketball head coach and will begin a search for a new athletics director immediately, the school said.