Multifamily Proposed on Ventura Boulevard in Encino
Monday, June 25, 2018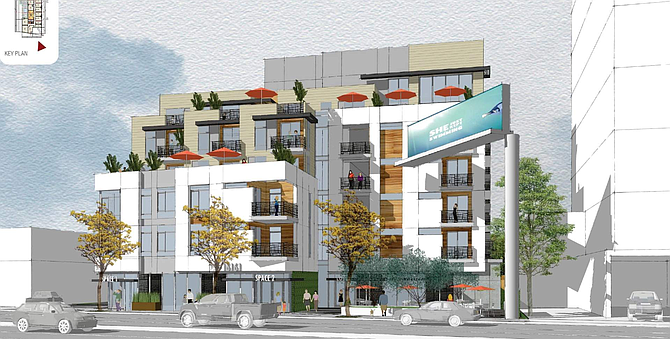 Encino Investors LLC has submitted plans for a 106,846-square-foot, 114-unit apartment building to be built on Ventura Boulevard in Encino.
Urbanize.LA reported that Los Angeles City Planning Commission on Thursday will review the proposal for the development, which will scale 86 feet high (six floors plus mezzanine level) and also require demolition of a couple of small commercial office buildings at 16161 W. Ventura Blvd.
The new multifamily development promises 32 studio units, 65 one-bedroom units, 15 two-bedroom units and twin live-work units — plus ground-floor parking and a two-level basement garage. The project will accommodate a total of 114 vehicle parking stalls, 126 bicycle parking spaces, and amenities such as fitness center and terrace decks.
Brad Rosenheim and Heather Waldstein of the Woodland Hills-based real estate consultancy Rosenheim & Associates Inc. represent Encino Investors in the approval process.
TCA Architects designed the modern building, located just west of an existing 13-level office building.