Economic Forecast: Grim Reality for Ventura County
Friday, June 22, 2018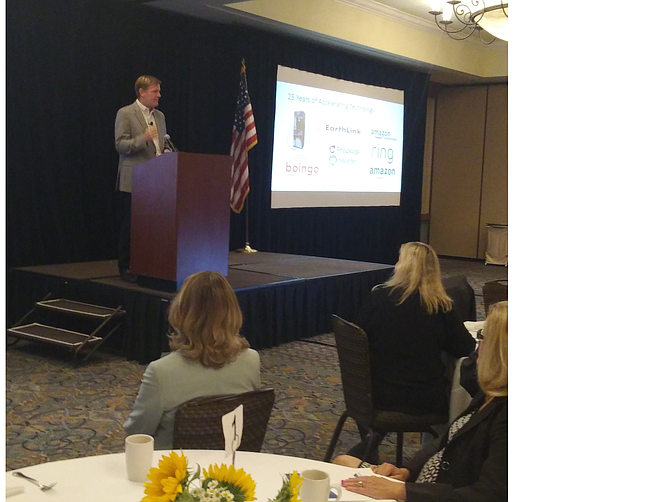 California Lutheran University Center of Economic Research Executive Director Matthew Fienup on Friday gave an overview of Ventura County's regional economy in "stark contrast" to the robust growth in neighboring San Fernando Valley.
Fienup and Jon Irwin, chief operating officer at Ring, delivered presentations at the Greater Conejo Valley Chamber of Commerce's annual Regional Economic Forecast at the Hyatt Regency Westlake Village on Friday morning.
"As national (economy) is accelerating, California is slowing down," Fienup told the gathering, and nowhere is that more evident than in Ventura County, which had a growth rate of -2.7 percent last year.
"There is evidence that Ventura County is an economy in distress," Fienup said, declaring that statistics show a worse economy than during the Great Recession. "More people are leaving than moving to California. … People are deciding that there are greater employment opportunities elsewhere."
In particular, Ventura County residents are leaving to other regions. However, Fienup ended on a positive note.
"I bet on Ventura County every single time," he said, basing his optimism on area innovation, such as in water monitoring tech and transportation-corridor development in Thousand Oaks. Fienup believes the region can soon expect "a return to a robust economic growth."
In retracing his storied career, Irwin, a veteran executive of technology and media companies who began at EarthLink in 1996, chronicled the rise of technology in the last 25 years from AOL dialup in the mid-1990s to Wi-Fi beginning 2002 to iPhone-led smartphones, the cloud and other launches such as Airbnb in 2007 to today's world of apps, streaming and Alexa devices.
Prior to Ring, Irwin served as the head of Global Business Development for Amazon video, where he built distribution partnerships for customers across major consumer electronics devices and distribution channels. Last year, he left Amazon to lead Santa Monica-based Ring, a smart doorbell device manufacturer which lets consumers view anyone at their doorstep from anywhere in the world. Ironically, Amazon acquired Ring, famously rejected on the ABC invention talent show "Shark Tank" in 2013, in February for $1 billion.
"I left Amazon a year ago; now I work for Amazon," Irwin said, chuckling.
Regional Economic Forecast sponsored included Amgen Inc., Los Robles Hospital and Medical Center, Chatsworth Products and California State University – Channel Islands.