Business Journal Honors CFOs, HR Professionals
Wednesday, June 13, 2018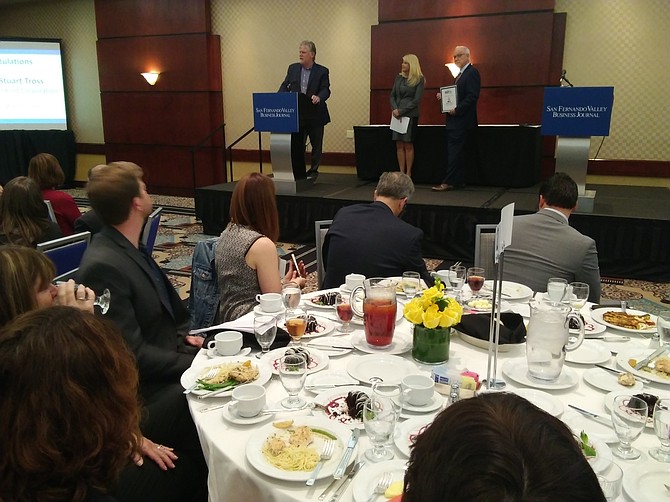 The Valley region's financial professionals gathered at the Hilton Woodland Hills on Wednesday for the Business Journal's annual Chief Financial Officer and Human Resources Awards ceremony.
In a program hosted by Business Journal Publisher and Editor Charles Crumpley, some 33 professionals were honored as finalists, with nine picking up first-place awards. CalCPA, California State University - Northridge, the DLC Group, Montage Insurance Solutions and the Century Group co-sponsored the event.
Dina Britten of CPA Principal Dina Britten introduced the first two award categories. John Kneisel of Simulations Plus Inc. won for Small Public Company CFO. Under Kneisel's watch, the company saw its revenue more than double from $11 million to over $24 million. Doubling as the company's director of human resources, Kneisel also grew a staff of 30 to 89 employees.
"You maintain your dignity, you do what's right and you do your job well," Kneisel told the audience of about 150 people.
Mark Puleo, HR director at Henry Mayo Newhall Hospital in Santa Clarita, was named Non-Profit HR Professional of the Year. "It's great to serve a community where I actually live," Puleo said.
CSUN Chief of Staff Jill Smith presented the next two awards. JH Capital Group CFO Glen Corey won in the Large Private Company category and Ann Henzgen of Hydra Electric won for Large Private Company HR Professional of the Year. Henzgen joined the company at a vulnerable time when the company's past leader had died, and helped reorganize the company into a clean manufacturing facility. She characterized her role as part of "a very challenging and very rewarding profession," crediting the "many mentors throughout my career."
DLC Group Managing Director for Los Angeles Dak Gilinsky and Chief Financial Officer Sarina Kaye introduced Small Private Company COO winner Carolyn Hansen of Gish Seiden, who had worked 28 years as a controller, firm administrator and director before joining Gish Seiden in 2016. In the Small Private Company HR category, they introduced winner Cindy Randall, Gish Seiden's administrator, who oversees the installation of new administrative staff and more efficient management software, and managed two company relocations.
Montage Insurance Solutions Chief Executive Danone Simpson present two awards. BlackLine CFO Mark Partin won for Large Public Company CFO; he could not appear in preson because he was in London on business, but a BlackLine representative accepted on his behalf.
HR Professional of the Year went to Mankind Corp. Chief People and Workplace Officer Stuart Tross, who worked with senior leadership to more than double the number of employees at the biotech firm and transition positions from Danbury, Conn. to the new headquarters in Westlake Village.
Tross, a former senior vice president of human resources at Amgen Inc., said that he did not achieve his honor alone, paying tribute to "many talented colleagues across the company, including the 10 people at our table."
BlackLine Corporate Controller Patrick Villanova, who was also overseas on business, could not accept his Rising Star of the Year award in person. Villanova was credited with leading a multi-national accounting function through the acquisition of Runbook Inc. in 2016, followed by a successful initial public offering of BlackLine last year.