Rexford Buys $22.5 Million Entertainment Industry Warehouse in Pacoima
Wednesday, July 25, 2018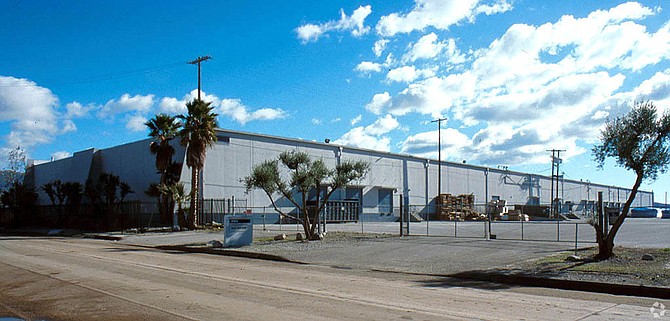 Rexford Industrial Realty has purchased a 122,868-square-foot industrial building in the north San Fernando Valley submarket of Pacoima for $22.5 million.
The transaction for the REIT, which owns and operates a vast portfolio of industrial properties throughout Southern California infill markets, was facilitated by the Colliers International team of Senior Executive Vice President John DeGrinis, Senior Vice President Patrick DuRoss and Vice President Jeff Abraham.
"Increased development, investment and owner-user activity during recent years has bolstered job growth and added tax revenues in these depressed infill areas, particularly Pacoima, Sun Valley and parts of Van Nuys," DeGrinis said in a statement. "These submarkets … have quickly become sought-after locations for entertainment companies seeking studio and other industrial space."
The seller, lighting equipment firm Mole-Richardson, acquired the property at 12154 Montague St. nearly five years ago and transformed the warehouse from a class C to a class A facility, according to Colliers. As part of the transaction, the company will lease back the building for three years.
DuRoss said the time is ripe for Valley transactions such as this one.
"With a population of 2 million residents, the San Fernando Valley is the largest suburb of the city of Los Angeles and, if it was its own municipality, it would be larger in terms of population than all but four U.S. cities," DuRoss said.
When it comes to industrial properties, the Valley has really come into the fore in recent months, even as both inventory and vacancies remain ultra-low. Last month, the same Colliers team leased two newly completed industrial buildings in neighboring Sun Valley a full year before completion of the Sun Valley Business Center, which is now occupied by OnTrac delivery, Safelite Auto Glass and Home Delivery Link, a distributor for Bob's Discount Furniture.
"Industrial vacancies are extremely low across the entire San Fernando Valley, currently ranging from 0.4 to 2.1 percent, depending on the properties and the market," DuRoss said. "That's why we continue to close transactions throughout the entire region from the fringes of Hollywood all the way to Ventura County and everything in between."