$1 Billion Transformation for Warner Center Corporate Park
Tuesday, July 17, 2018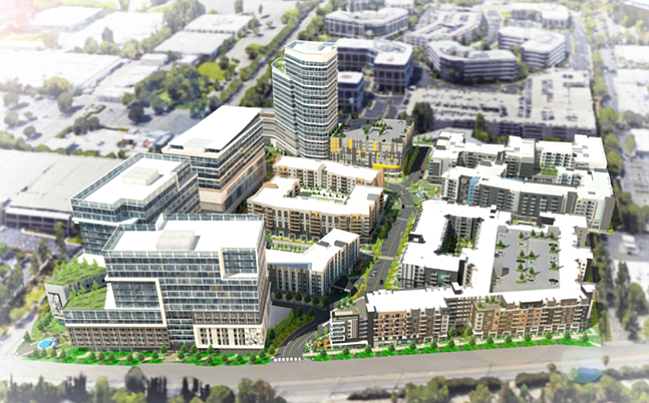 Adler Realty Investments has plans for a $1 billion transformation of Warner Center Corporate Park at the intersection of DeSoto Street and Burbank Boulevard in Woodland Hills.
According to CoStar Group, Woodland Hills-based Adler Realty, which purchased the Warner Center Corporate Park property five years ago, will seek to overhaul what is currently a collection of 12 office buildings totaling 346,144 square feet.
When complete, the new project will include four office buildings offering about 300,000 square feet apiece, 1,029 residential units, a 210-key hotel on 25 acres, and 5 acres of public open space.
Adler Realty has hired Van Tilburg Banvard and Soderbergh to design the mega-complex, which should entail seven to 10 years to complete.
The transformation, sensitive to existing businesses at the campus, will be done carefully in a series of phases. To mitigate traffic, Adler Realty will contribute millions of dollars to the city in an effort to widen DeSoto Avenue and relieve area roadway pressure.
The project falls under the Warner Center 2035 Specific Plan, the urban development blueprint seeking to establish substantial mixed-use projects to the area in order to transform Warner Center into the downtown of the San Fernando Valley.