Business People Protest California's PAGA Law
Thursday, December 13, 2018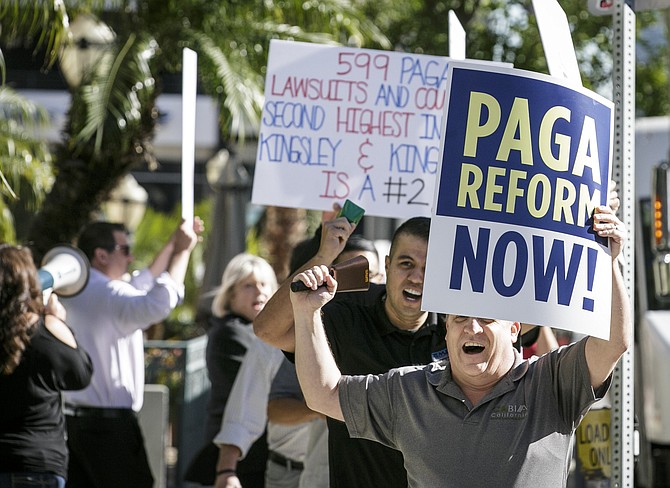 A group of business owners, saying they're fed up with a particular California law, on Thursday morning took a page from labor organizations' playbook and staged a public protest.
They marched with placards and chanted through bullhorns on Ventura Boulevard in Encino.
The object of their fury is the Private Attorney General Act, commonly called PAGA, a unique law that deputizes workers to sue their employers in place of the state's attorney general for labor code violations. The small-business owners complain that PAGA has devolved into a system in which they often have to pay devastating settlements that can run into the millions of dollars for minor violations, such as failing to document work break times or not printing the employees' addresses on their paycheck stubs. The employees typically end up with little of the money while politically connected lawyers are enriched, the business group said.
The group of 14 staged the demonstration after 11 a.m. in front of the Encino Financial Center building on Ventura Boulevard, which houses the law office of Kingsley and Kingsley, a Ventura Boulevard firm that is California's second-most prolific filer of PAGA lawsuits, according to the business group.
Eric Kingsley of the law firm did not respond to requests for comment Thursday afternoon. However, late in the protest he came down to meet the group. Some words reportedly were exchanged.
Among the chants blasted from a bullhorn: "Hey, hey! Ho, ho! This PAGA law has got to go!" One placard read "Some Sharks Wear Suits," referring the law firms. Others read "It's my livelihood, not your legal fee" and "Employees are not protected by PAGA."
Such public demonstrations have long been a tactic used by organized labor and other groups, but very rarely by business people. Several observers said they have never seen business owners carrying placards before.
However, Joann Roth-Oseary, a catering-business owner in Tarzana, said she was moved to protest out of anger and frustration. "California is driving us into the dirt," she said, "with its plethora of labor laws…
"PAGA is an abomination," she continued. "It has created an industry of extortion for a group of attorneys."
The business owners believe that since the plaintiffs' lawyers are influential politically, there's scant hope of getting relief from Sacramento. Indeed, the legislature has shown little to no motivation to reform PAGA.
The protest was organized by a group called the California Business and Industrial Alliance, or CABIA, which was formed last year to fight PAGA. Tom Manzo, the founder, is president of Timely Prefinished Steel Door Frames in Pacoima, which got hit with a PAGA lawsuit because some employees took their lunch breaks later than five hours after they started their shifts in violation of state labor law. Even though the employees wanted to delay their lunch breaks so they could eat with colleagues who worked later shifts, it still cost Manzo's company more than $1 million, he said.
CABIA on Nov. 28 filed a lawsuit in Superior Court in Orange County challenging the constitutionality of PAGA. "With this complaint, we're asking the state to enforce its own laws – rather than transferring the state's power to private attorneys who operate for their own personal gain," the suit states.
It alleges that a "complete lack of oversight by the legislative, executive, and judicial branches of the California State government, has allowed PAGA to become a tool of extortion and abuse by the plaintiffs' bar, who exploit the special standing of their PAGA plaintiff clients to avoid arbitration, threaten business-crushing lawsuits, and extract billions of dollars in settlements, their one-third of which comes right off the top."
More than 35,000 PAGA notices have been filed since the law went into effect in 2004, the lawsuit claims, and more than 100 law firms have filed 50 or more. Kingsley and Kingsley filed 599, according to the suit. No. 1 on the list is the Law Offices of Ramin R. Younessi on Wilshire Boulevard in Los Angeles, having filed 753.