L.A. to Host 2028 Olympics
Monday, July 31, 2017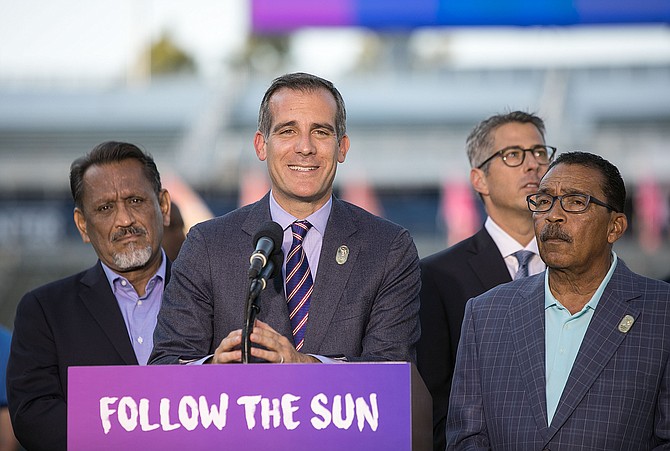 Los Angeles will be the host city of the 2028 Summer Olympics, a post on the International Olympic Committee website announced Monday.
The committee posted the text of a contract with the city of Los Angeles. The decision still needs ratification by the committee at a meeting in September.
"The IOC welcomes this decision of the Los Angeles Olympic and Paralympic Candidature Committee and we are pleased to release the host city contract 2028 in a transparent and timely manner," IOC President Thomas Bach said in a statement. "Los Angeles presented an excellent candidature."
Last October, the head of L.A. candidature committee said three events would be held in the Valley if L.A. won the bidding contest. Equestrian and shooting contests would be held at Sepulveda Dam, and canoe and kayak slaloms would be in nearby Lake Balboa, Gene Sykes told the audience at an event organized by the Valley Industry and Commerce Association, or VICA. The statement was made when L.A. was competing for the 2024 Olympics, which will be held in Paris.
"Today's announcement is fantastic news for the San Fernando Valley and the rest of Los Angeles," VICA President Stuart Waldman said in a statement. "The agreement demonstrates that Los Angeles can reap economic and social benefits throughout Los Angeles County with minimized risk. In the San Fernando Valley, we're excited to host the canoe slalom, equestrian and shooting events which will bring the games to Valley residents."
The International Olympic Committee also announced that because of the long timeline between now and 2028, "the IOC will advance funds to a Los Angeles Organizing Committee in view of the longer planning period and to increase participation and access to youth sports programs in the City of Los Angeles in the years leading up to the Games."