LARRY LEVINE HAS BEEN A CAMPAIGN CONSULTANT FOR FIVE DECADES, AND HE'S STILL GOING AT AN AGE WHEN MANY HAVE LEFT THE BUSINESS.
Political Cents
Monday, October 14, 2013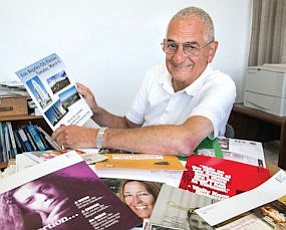 As a child growing up in the 1940s in Brooklyn, Larry Levine wanted to be an attorney. But after moving to Burbank at age 10 and taking a newswriting class in junior high school he decided on a career path as a reporter and editor for local newspapers. He would become a reporter and editor at the Burbank Review, the Glendale News-Press and finally the Copley News Service working out of Los Angeles City Hall. That was until the political upheaval of the late 1960s caused a growing political awareness that prompted a career change. He has since consulted for local, state and federal office candidates and on statewide ballot initiatives for 44 years. "I've had a great life doing what I'm doing," said Levine, who also dabbled in television writing, songwriting, and is shopping around a novel and a memoir. Now 75, his most recent campaign was with Andra Hoffman, one of 11 candidates in a September special election for the 45th Assembly District representing the west San Fernando Valley. Levine took time to talk with the Business Journal at his Sherman Oaks office about journalism, politics and how the women in his life not only helped shape his career but his palette.
Question: How have campaigns changed since you became a consultant in 1970?
Answer: When I started there were no consultants; there were just campaign managers. There were no companies that did multiple campaigns. It evolved into the business it is now where you set up a business and you consult on multiple campaigns. The campaign manager is someone who runs the day-to-day operation in the headquarters.
Has it become more lucrative too?
The business has changed so much it is hard to compare. Now that they form firms, the income level for individual consultants has risen sharply because they are taking on more work. Some people will charge a fee plus commission and markups. Some of us, and there are fewer and fewer, say this is my fee with no commission. I charge a flat fee. It depends on the race. If it is a lower-budget race I will drop the fee commensurate with the budget. A higher-budget race, for the Assembly or city council, is in the $40,000 to $50,000 range, which is a long way from the first campaign, which was $800 a month.
What is your role as a consultant?
I am responsible for everything that happens in a campaign. We don't do fundraising. But I am responsible for hiring the fundraiser and supervising the fundraising operation. I found out years ago that fundraising is so time-consuming that if you are doing that, you don't have time to think about how to intelligently spend the money. You need one person who wakes every morning and goes to bed every night thinking about how to raise (money) and another person who does the same thinking about the best way to spend it.
Prev Next