Disney Artifacts Exhibit Opens at Reagan Library
Friday, July 6, 2012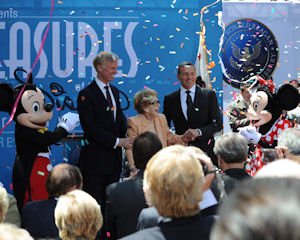 The most extensive display of artifacts from the archive of The Walt Disney Co. opened July 6 at the Ronald Reagan Presidential Library & Museum in Simi Valley.
"D23 Presents Treasures of The Walt Disney Archives" features 500 artifacts on display through next spring. About half of the items have never been seen by the public.
Among the artifacts is a recreation of Walt Disney's office on the Disney studio lot in Burbank,
early original drawings of Walt Disney's first cartoon, Oswald the Lucky Rabbit; the first ticket ever issued for Disneyland; Disney theme park attraction pieces and ride vehicles; and props, set pieces and costumes from beloved Disney films.
A ribbon cutting for the exhibit took place July 5 with Nancy Reagan; Disney Chairman and CEO Robert Iger; David Ferriero, Archivist of the United States; Fredrick J. Ryan, Jr., Chairman of the Board of Trustees for the Ronald Reagan Presidential Foundation; and Mickey and Minnie Mouse.
"This is a rather historic day for Disney -- the first time we've ever opened our archives to the world on such a grand scale," Iger said in a prepared statement. "We are deeply honored to share this exhibit with the Ronald Reagan Presidential Library and the countless visitors who can now explore and appreciate the legacies of both extraordinary men."
Mark R. Madler