KALEIDOSCOPE - OUR CHANGING VALLEY
Final Reflections
Monday, August 29, 2011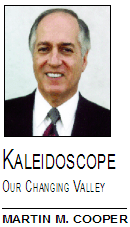 It's "movin' on" time.
If there's a theme running through the 78 columns I've written for the Business Journal over the past six and one-half years, it has been a reflection on where Our Valley has been and a consideration of the challenges and opportunities ahead of us; an intellectual curiosity about the world around us and how it impacts – and is impacted by – our community; and a love for knowledge and reading.
At about 800 words a column, that's more than 62,000 words – enough to fill a book. And in fact, it did, when a compendium of the first five years of columns was published as North of Mulholland.
We have defended Billy, the lone – and lonely – elephant in the Los Angeles Zoo; excoriated Angelo Mozillo of Countrywide; praised the many non-profit organizations that serve our community; explored the lesser-known personalities of the Valley, such as our last horseshoer; skewered more than a few politicians; and highlighted the accomplishments of our too-small band of local philanthropists.
But more than just a reflection of where we've been, I've tried to create a perspective and foundation as to where our ever-evolving society may be going. I have always believed philosopher George Santayana's dictum, "Those who cannot remember the past are condemned to repeat it," from his book, Reason in Common Sense.
That foundation really began 242 years ago, with the arrival of the first non-native Americans, when Gaspar de Portola and his expedition of 54 Spaniards trudged through what is now the Sepulveda Pass.
For those of us North of Mulholland, the story has always been about water…and the movies. And that makes the second decade of the last century just about the most important ten years in our story.
Irish immigrant William Mulholland, Superintendant of the Los Angeles Water Company, oversaw construction of the 233-mile aqueduct that brought water from the Owens Valley to a parched Los Angeles. On opening day, November 5, 1913, he proclaimed, as the water rushed into the Valley, "There it is; take it."
And with those words he spelled the death knell of a Valley dotted with dozens of independent townships. Because in order to gain access to Los Angeles' water, over the next few years most of them voted to join the big city. And that ended the lives of Girard, Oat Hills, Zelzah, Marian, Fernangeles and many more.
And in 1915, Carl Laemmle opened his 230-acre Universal Studios.
From then on, the Valley has housed more businesses related to the production of motion pictures, television programs, video games, internet content, and other media building on Mr. Edison's invention, than anyplace else in the world.
So, as we conclude our formal contributions to the Business Journal, here are a few thoughts on the future of Our Valley:
Secession – Although we've sought to leave Los Angeles and strike off on our own, it will never happen. State law mandates that the voters of both the area that wishes to secede and the municipality it wants to leave must approve by more than 50 percent; that will keep secession from ever becoming a reality.
Traffic – We will continue to choke on our own automobiles because we will lack the political will and financial commitment to create – and then use – a real rapid transit system. Bring back the Red Line cars!
Water – We will continue to take water for granted…until it becomes as expensive as gasoline.
Development – As long as they can, developers will continue to maximize every square inch of space…meaning a lot more tall, boxy buildings and a lot less greenery.
The Economy – Despite the current recession, our economy will, over the long term, thrive. Our success will not be due to Fortune 500 companies setting up shop here, but because of the ever-evolving nature of the film and entertainment industries and the entrepreneurial spirit of Valley dwellers.
Perhaps the truth of the matter is to recall the words of novelist Alphonse Karr, who wrote that, "The more things change, the more they are the same."
The former major domo of these pages, Jason Schaff, who I always referred to as Ye Olde Editor, invited me to share my unfettered and usually unedited thoughts with all of you, and it has been great fun casting a broad view on our society.
I will be eternally grateful for the opportunity to have written for this publication. (Well, maybe not eternally, but for a long time.)
But I plan to keep on writing. While this is my final Business Journal column, I am beginning work on a book on crisis management a publisher has contracted me to write.
What Winston Churchill said after Britain's victory in the 1942 Battle of El Alamein may be said of my writing: "It is not the end. It is not even the beginning of the end. It is, perhaps, the end of the beginning."
Martin Cooper, President of Cooper Communications, Inc., is Past Chairman of VICA and Chairman of its Board of Governors; Founding President of The Executives; Vice Chairman of the Boys & Girls Club of the West Valley; and a member of the Board of Governors of the Valley Economic Alliance and of the Board of the LAPD's West Valley Jeopardy Program. He is Past President of the Public Relations Society of America-Los Angeles Chapter, the Los Angeles Quality and Productivity Commission, and the Encino Chamber of Commerce. He is the 2010 recipient of VICA's Harmon Ballin Community Service Award, and can be reached at mcooper@coopercomm.net