KALEIDOSCOPE - OUR CHANGING VALLEY
Why the Census Is Important to Business
Monday, April 25, 2011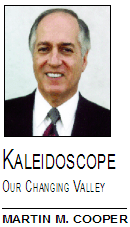 Back when I attended UCLA, the campus was divided neatly into two halves.
The campus' northern part was given over to such subjects as history, political science, English, art history, and the like. The southern half was focused on the sciences: mathematics, statistics, geography, chemistry, and even such arcane subjects as bacteriology.
There was a rumor rampant that a visa was necessary to visit that half of the campus which taught subjects out of your emphasis area; English majors never ventured down to the southern part of the campus, while mathematics majors risked being severely swatted with a dangling participle should they wander northward.
Therefore, imagine the trepidation of an erstwhile (is that a great word, or what?) English major like me venturing into near-forbidden territory and exhibiting intellectual curiosity about…the census.
One's eyes glaze over rows of numbers and statistical comparisons that only my friends Dan Blake, Bob Rodine, and Bob Scott could possibly understand. But the truth of the matter is that the just-released census has information that should be of significant interest to Our Valley's business community. The information available, thanks to the denizens of the U.S. Census Bureau, makes plunging into that world a worthwhile risk for those of us who are numerically challenged.
Let's start with the depressing stuff…
The commute
San Fernando Valley residents average nearly half-an-hour (28.2 minutes) commuting to work; that's almost six percent more than the average Californian and 11 percent longer than the average American. Do we really think building a bus line along Canoga Ave. – even one with but a few stops – will make a dent in that time frame?
A staggering – and depressing – 72.8 percent of us drive to work alone…so much for the success of carpooling campaigns.
Next to public safety, the business community has no greater imperative than an improved transportation system both within Our Valley and to parts Over the Hill.
Another depressing statistic is the percentage of income we spend on our housing. In 2009, almost half of Valley homeowners (117,420) spent 35 percent or more of their income on housing. Overall, the median monthly mortgage and homeowner's costs have increased by nearly 10 percent since the 2000 census. Across the U.S. as a whole, only about a quarter of the population spends more than 35 percent of their income on housing.
Remember when parents told their children never to buy a house whose monthly cost exceeded 25 percent of their income?
10 percent in poverty
According to CSUN's San Fernando Valley Economic Research Center Housing Report for October 2010, poverty is still a fact of life for more than ten percent of Valley families. More than 11 percent of Valley households have annual incomes below $15,000.
Do you think you could live on less than $15,000 a year?
For better or worse, there are more than 1.77 million people living in the Valley, exceeding the populations of all U.S. cities but New York, Los Angeles, Chicago and Houston. According to the Census Bureau's 2009 San Fernando Valley Census Report, the Valley's population has increased 4.7% since 2000.
On the brighter side, North of Mulholland we're better educated than most. According to the new figures we are, on average, more educated than other parts of the city and county with 117,365 people with graduate or professional degrees and another 259,125 with bachelor's degrees. .
That's an important message for the Economic Alliance and others engaged in bringing business to the Valley, as almost every employer wants a well-educated workforce.
Thank you CSUN, Woodbury University, Pierce College, Valley College, and Mission College.
Stats help businesses
What's the benefit of studying the entire census report for a businessperson? Simple. The successful businessperson looks at trends, statistics, and demographics and figures out how to use them to help his or her own business thrive.
For example, the San Fernando Valley is home to 733,125 people (41.4 percent) who are foreign born.What business opportunities does that suggest?
Since the last census, the Latino population has grown by 11.6 percent, which translates to 736,315 residents. Any wonder that Vallarta Supermarkets, which caters to the Latino community, is successful?
The five Gonzalez brothers and two nephews came from a humble background, a small town in, Jalisco, Mexico. They immigrated to the U.S. in the 1960s, where they found restaurant jobs as short-order cooks or busboys.
In 1985, Enrique Gonzalez, Sr., opened his first store, a 1,000-square-foot market in Van Nuys. Today, Vallarta encompasses 35 stores employing 6,500 employees in 10 Southern California Counties, with four more to open in the few months.
Numbers have real meaning; it's our responsibility to translate them into opportunities.
I wish I had learned that at UCLA.
---
I hope all of you are going to fill out your census form when it comes in the mail next month. If you don't return the form the area you live in might get less government money and you wouldn't want that to happen, would you.
– Andy Rooney
Martin Cooper, President of Cooper Communications, Inc., is Founding President of The Executives; Vice Chairman of the Boys & Girls Club of the West Valley; and a member of the Board of the Valley Economic Alliance. He can be reached at mcooper@coopercomm.net.