RETAIL: FREAKY DOG PEOPLE INC. TO GIVE PORTION OF ITS PROFITS TO RESCUES AND SHELTERS.
Pet Merchandise Firm Raises Money for Animal Causes
Monday, April 25, 2011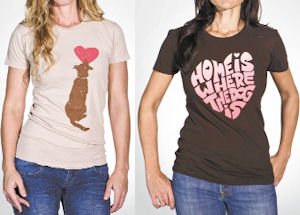 This is a regular feature on philanthropic activities by Valley-area businesspeople and companies.
A new company that was developed to help homeless dogs launched this month in Calabasas.
Freaky Dog People Inc. raises money and awareness for dog rescues, shelters and other canine assistance programs through charitable efforts and sales of its brand apparel and merchandise. The company has committed to giving 20 percent of its profits to the groups.
The company was launched by co-founders Leanne and Ted Afetian.
"In addition to our engaging online community, we have created a high-quality line of clothing and merchandise expressly for dog doting individuals to both wear their love for dogs on their 'sleeves' and cultivate a greater sense of compassion for dogs as a member of the family pack," said Leanne Afetian, who is also president of the company.
Merchandise includes items such as T-shirts, caps and "Giving Bands" charm bracelets.
The company sells its products online at www.freakydogpeople.com.
Realty Firm Raises Funds
Keller Williams Realty is kicking off its annual Antelope Valley RED Day, which aims to help raise funds and other resources for local charities.
The "RED"– "Renew, Energize, Donate" – will be held on May 12. More than 50 vendors will participate and help raise $12,000 and 2,000 bags of non-perishable food items for the event's beneficiaries. The day will include entertainment, raffles and business opportunities for families for attendees.
Local nonprofits that will receive donations include The Painted Turtle, Westside Union School District, Grace Resource Center, SAVES and Keller Williams' Agent Family Emergency Fund.
Keller Williams Realty, the Antelope Valley Mall and the city of Palmdale are the event's official sponsors. Partnering sponsors are The Center for Orthopedics and Rehabilitation and 24 Hour Fitness.
Antelope Valley RED Day is taking place just outside the Keller Williams Realty's Palmdale office at the Antelope Valley Mall.
Disneynature Helps
Disneynature is partnering with African Wildlife Foundation to save wild animals through its new "African Cats" film and Save the Savanna campaign.
Disneynature, which has also produced "Earth" and "Oceans," is a Disney-branded film label that was launched in 2008.
During the opening of "African Cats" from April 22 through April 28, a portion of the proceeds from the week's ticket sales will be donated to the African Wildlife Foundation. The donation will be made through the Disney Worldwide Conservation Fund and will be used to protect the Amboseli Wildlife Corridor in the African savanna, a passage between the Amboseli, Tsavo West and Chyulu Hills national parks. The corridor is frequently used by lions, cheetahs, elephants, zebras, giraffes and other animals.
Disney Ticket Together, Facebook's first social ticketing application, allows fans to invite friends to see "African Cats" and purchase tickets for local theaters. For all "African Cats" events created in Tickets Together, Disney will increase its donation to the campaign fund for every "Yes" RSVP that the events receive.
Hospital Gives Grants
Kaiser Permanente Panorama City is accepting 2011 community grant applications through April 27.
A limited number of grants through the Kaiser Permanente Community Benefit program are awarded to organizations that address critical needs in at least one of three areas of focus: Improved Access to Health Insurance and Health Care Services for the Uninsured and Underserved; Chronic Disease Prevention, Education and Management; Reduce Obesity and the Onset and Complications of Diabetes.
Eligible applicants must be a nonprofit organization or a local, state or federal government agency operating for a public purpose. They must also provide services within the East San Fernando Valley or Santa Clarita Valley, provide services to disadvantaged and/or underserved populations, address critical public health needs in a culturally diverse community, and have provided evaluation reports for all historical grants.
Applicants can apply online at www.GrantRequest.com/SID_946?SA=SNA&FID=35112. They can also contact Amy Wiese at (818) 375-2217.
Mall Offers Discounts
Westfield Topanga and its retailers are offering deals for donations next month.
Shoppers who donate $50 to Susan G. Komen's Los Angeles County affiliate will receive a pass for a 20 percent discount at participating stores from May 6 through May 15.
On May 6, Westfield Topanga will host a "Celebration of Life" event honoring five breast cancer survivors with beauty makeovers. Carlton Hair International, The Body Shop, Napoleon Perdis and Ziba Beauty have volunteered the time and services for the cause. Westfield Topanga will match donations made to the organization on that day.
Compiled by Jessica Vernabe