ASSIST: CITY NOW OFFERING INCENTIVES TO DRAW INTEREST.
Lighting Company Relocates to Glendale's Creative Corridor
Monday, April 25, 2011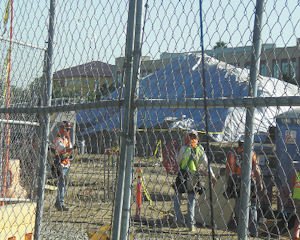 Event lighting company Kinetic Lighting is one of the first companies to move into Glendale's Creative Corridor as the corridor is taking a more defined shape with new incentives.
The company, which provides lighting rentals, sales and services in the entertainment industry, just recently moved from North Hollywood to 722 Thompson Ave. in Glendale, which falls into an area city officials are using to try to attract more entertainment, media, design and other creative-based companies. The corridor is located along San Fernando Road, running north and south of the 134 freeway and includes surrounding streets. DreamWorks Animation, Technicolor and KABC are some of the larger creative companies already located in the corridor, with some of them expanding.
After three years of being located in its former 16,000-square-foot North Hollywood facility, Kinetic Lighting's executive leaders decided to make the move to a larger site.
"We were looking everywhere from Culver City to Sunland and from the 405 to the 5 (freeways)," said Daniel Bortz, the company's CEO. "There's a lot of buildings that for one reason or another you couldn't get a truck in or just wasn't secure."
Once the company decided to check out Glendale, the city's economic development manager helped the company find the right location and get the process started, Bortz said. A 22,000-square-foot space with a loading dock was chosen.
Bortz said he and his business partners like the fact that the space is close to the freeways, especially since the company does a lot of work in Hollywood. Kinetic Lighting was also able to benefit from some incentives offered by the city. The city had replaced the building's fluorescent lighting with more efficient lighting. The company also had the luxury of moving into a space that had been pre-inspected for fire department regulations.
Kinetic Lighting currently has 14 full-time employees and 35 part-time employees, with plans to possibly hire two more workers this year and another two in 2012.
Incentives
Glendale's Redevelopment Agency released its official Creative Corridor incentives this month. The incentives include old and new benefits that are largely geared toward companies relocating their businesses.
New incentives include fire pre-inspection to ensure that businesses know how their future building holds up to safety regulations and plan check priority. The new benefits also include fund-matching grants for facade improvements, fire sprinkler installation, maintenance or refit of structural building enhancements up to $40,000; and also matching grants for building infrastructure improvements up to $250,000.
Other incentives that were already offered by the city, including no gross receipts tax, no business license fee, flexible zoning that includes options for turning a building into a live-work space, entitlement concierge service, and Glendale Water and Power energy conservation incentives up to $100,000 for medium and large businesses.
Quicker approval
Another incentive that is geared more toward businesses already in the corridor is the ability to have minor variances approved by the city's director of planning as opposed to the planning commission, said Glendale Mayor Laura Friedman.
Friedman spearheaded the Creative Corridor project in 2009. She said research shown by a city taskforce showed that there was a large presence of creative companies in the area.
"We already have this mass and now it's a question of really capitalizing on it," she said.
Phillip Lanzafame, director of Glendale's community redevelopment and housing department, said adding grants for building improvements also helps the city keep up the quality of its structure inventory.
Other recent developments that have occurred within the corridor include Technicolor's recent decision to bring its film lab from to Glendale from North Hollywood, adding to its already existing local operations. Disney – which houses its theme park, resort, ride and product design operations in Glendale – was also recently approved by the city to add a machine shop to the site, which would build the theme park rides.